~ Mental Framing: Put Your Mind In A Position To Be Successful! ~
Mental framing is how you see any given situation and occurs when you position your thoughts in such a way as to convince yourself of the value of difficult situations. This positioning begins by asking a few questions.
Ask Yourself
What are the positives here?



How can I gain an advantage with this, over my opponent?



Can this be an opportunity?



There is something to learn here, what is it?
---
Like a picture frame is used to enhance the art work within, a positive viewing outlook enhances the player's view of any given situation. This enhancement puts the players mind in a position to be successful, in those difficult situations that arise in this game.
The key to this is not the situations you face; rather how you mentally view those situations.
In baseball, as in life, it is all about how you frame it!
Mental Framing Tips ~ From the Dugout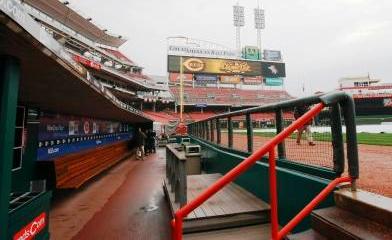 Allow Your Mental Game To Dictate The Situations, Rather Than Having The Situation Dictate Your Mental Game! ( Jeff Janssen )
A Wonderful Memory Created Through The Magic Of Baseball
I witnessed a great example of mental framing in 2003, with one of my players who had been selected to play in the State All-Star game.
This player was a three year varsity starter as a second baseman, two year All Conference and All State at that position. He closed a few games for us when needed; but pitching was not his strength.
I was selected as one of the coaches for our classification game. As the game evolved, this player had an opportunity to play 2B. We ended up in a situation where we needed him to come in and pitch, which he did very successfully.
In 2003, North and South All-Star teams were selected from the four classification games, to play a Super 50 game, in Chase Field, home of the Arizona Diamondbacks.
A great honor and a once in a lifetime opportunity for a high school player to compete in a major league stadium, immediately following a D'Backs Saturday afternoon game.
The selections for the Super 50 came at the end of each classification game. This player was selected and was truly excited, as was I.
Neither of us realized at that moment that he had been selected as a pitcher, not an infielder. That realization came to life in the auxillary locker room underneath Chase, as the pitching rotation was announced.
He was going to be on that major league mound in a very visible position, in that stadium, competing against the best high school baseball players in the state, at a position that was not his strength.
What would he do, how would he react? There were scouts in attendance, professional as well as college. More fans than he had ever played in front of before, surrounded by unfamiliar team mates.
There were only two coaches that he knew, myself and one other coach from our conference. Wow, an opportunity, or a recipe for disaster? Which would it be?
---
He would have plenty of time to think about it, as he was to throw the 5th inning of that 9 inning contest.
I could see he was nervous as he sat and watched 8 pitchers take the mound, with varying degrees of success. Some owned the experience, some were hit hard, a couple could not find the plate. He didn't miss a thing. He took it all in.
Standing next to him on the 3B dugout steps, I asked what he thought about all of it. He was thrilled with the opportunity. His eyes were alive, "I'm going out there and throw good, low strikes," he said. There was a plan!
As you can tell from the picture at left, he was a less than intimidating presence, toeing the rubber at 5'7", 145 lbs. He took the ball and never looked back, creating an everlasting memory for himself, his family and me.
He gave up one hit, no runs, struck out one and got a double play ground ball.
You could see the width of his smile as he ran off the field. That made it special!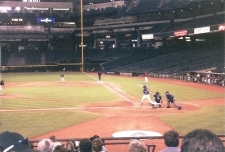 In the picture at left, one pitch of an 8 pitch at bat, resulting in a walk. What a day and experience for a high school baseball player and his family.
Where Does This Story Fit In With The Subject Of This Page?
There was every opportunity for this player to negatively view having to pitch with little experience, on that larger stage, coming up with excuses as to why he might not be successful.
The "why is this happening to me thought process" or dwelling on "if I could just be at 2B." Instead he chose to see it as the tremendous opportunity that it was, focusing in on what needed to be done, not trying to do to much, creating a workable plan for success and enjoyment.
I wasn't surprised. His mental game was stronger than most; but I had never witnessed it tested so strongly outside the comfort zone of his usual position.
Frame Situations To Your Advantage ~ The Main Ingriedient In The Recipe For Success!
Additional Topics: A Road Map To Increasing Mental Toughness
Mental Game

~ The one thing over which you have absolut control is your own thoughts. ~ Coaching Confidence

~ In baseball, coaching confidence can produce results that go beyond the drills and strategies and into the hearts and minds of the people they teach. ~ Mental Power

~ You are searching for the magic key that will unlock the door to the source of power. ~ Focus Grid

~ This is a fun mental focus exercise designed to find out how well you can initially concentrate with no distractions, then how well you concentrate with distractions. ~ Mental Control

~ Mental control lies in our ability to direct our attention on what we can control. ~ Self Talk

~ The dialogue we carry on with ourselves each day of our lives. ~ Slump Busting

~ Slump busting can provide you and your players with a plan to decrease the impact of those inevitable slumps. ~ Teamwork

~ It's crucial but; players don't always know what teamwork means. ~ Control Your Attitude

~ Controlling your attitude is nothing more than choosing to use and focus on productive self talk. ~ Identifying Unproductive Behaviors

~ Make your opponent beat you instead of losing to yourself. ~ Derek Jeter On Deck

~ The ultimate preparation! ~ Harvey Dorfman

~ Tributes to a very special man! ~




return to theoleballgame.com