~ Baseball Outfield Fundamentals ~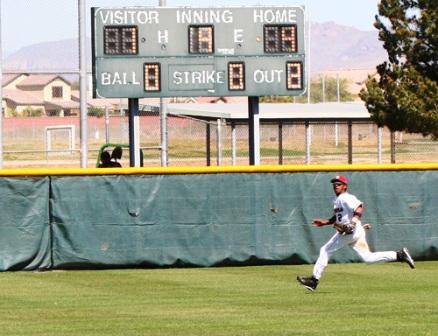 Baseball outfield fundamentals, there is so much more involved in playing the outfield than generally meets the eye.
It is sometimes thought, by coaches, players and parents alike, that those playing the outfield are there because they are not skilled enough to play the infield.
Nothing could, or should, be further from the truth. When an infielder makes an error, there is an outfielder behind him to hold the batter to one base.
When an outfielder makes an error, in most instances it turns into two bases, sometimes three. Outfield errors are truly devastating to a defense.
A good outfield is a real joy to watch. It is poetry in motion as they constantly back up plays in front of them, back up each other and communicate back and forth at all times.
Most all of this takes place a long distance from home plate, causing the true magic of it all to be lost, on most in attendance.
Baseball Outfield Fundamentals Come In Many Forms, In That Vast Expanse Of Grass Beyond The Infield Dirt!
>
Baseball Outfield Fundamentals
Ready Position
While both positions shown are good, the one on the left, hands on thighs is the better of the two.
If the player's hands are on their knees, they must pick them up before they can run. If they are on their thighs, no time is lost.
While it is a small point, it provides the player with an edge, one worth taking advantage of.
Note, feet are staggered just a little, knees slightly flexed.
Signs That Something Is Wrong In The Outfield
In the photos above, a player assuming any of the four stances will have trouble moving to a ball. When in these positions, they have lost most, if not all, of their focus.





Baseball Outfield Fundamentals ~ Tips From the Dugout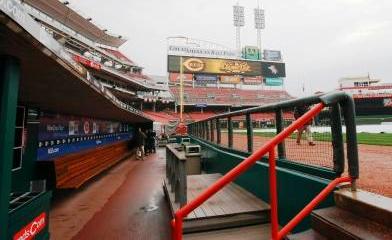 On any ball that is hit, there is someplace an outfielder should be headed to. If they are not moving, they are wrong.



Work hard to get behind the ball so you can catch it coming into your throw.



Catch the ball on your throwing side, it takes less steps to throw.



Most essential, hit the cutoff man. If you can hit the cutoff man every time, you are an average outfielder right now.



Break on all balls hit, play as if there are no infielders.



Don't take a step until you know where the ball is going.



Use your glove to block the sun on fly balls.



Throw with distance and accuracy, don't worry so much about velocity.



Fielding Ground Ball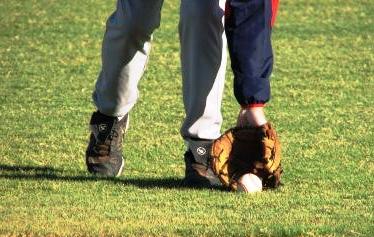 Use your feet to get yourself in a position to throw.



Field the ball with your glove side foot forward.



Need to get rear end down, this is accomplished by letting your knees take it down there. Reaching down with your glove and keeping your legs straight leads to balls getting under your glove. Use those knees.



Ground balls to the side, get around and behind the ball, so that you are coming into the ball as you field it.



Around it, to it and through it!



Throwing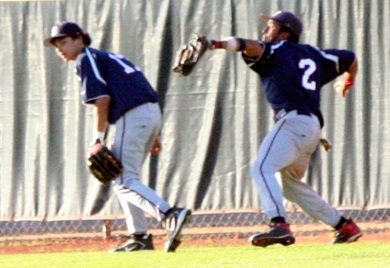 In the picture at left, the outfielder is in a great position to throw the ball. He has stepped on line, directly at his target, is in the proper arm slot with his elbow above his shoulder.

Work on making accurate, 1 long hop throws to bases. The ball gets there quicker and is easier for the infielder to make a tag with, than a ball thrown all the way in the air.










Making The Sliding Catch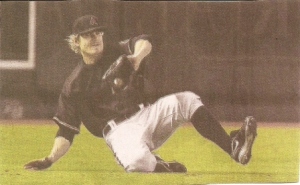 Here is a catch that is sure to bring them to their feet. Sliding is not reserved only for base running.


Sliding to make the catch is the same as a figure 4, or pop up slide for stealing a base.



Note that the outfielder has his front foot up, which keeps his cleats from getting caught in the grass, preventing injuries.



The slide also allows the player's body to remain upright, much safer than diving headfirst for the ball.



Player is able to focus on tracking the baseball into the glove, securing the catch.



The body position allows the player to block the ball with his chest, should he commit and then not be able to make the catch. A headfirst dive can easily end up in a three base error, as the player has no body profile to block with.



Baseball Outfield Fundamentals ~ Who Has The Call On That Flyball?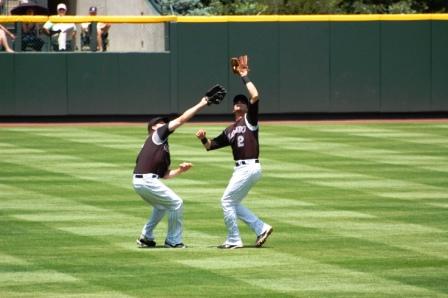 Photo Bill Stanton: Checkswing.com
Center fielder has the call over all outfielders and infielders.



All outfielders have the call over all infielders.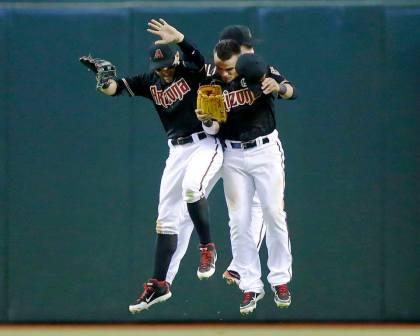 Due To Their Distance From Home Plate, Outfielders Have A Greater Challenge To Maintain Mental Focus, Pitch To Pitch!



return from baseball outfield fundamentals to the ole ballgame.com