Site Origin: How Did All This Come About?
Site origin, those reflections or thoughts you finally have time for, once you aren't so concerned with the everyday survival mode that plagues us all!
Retired five years, I had thought much about the experiences and individuals that led me to the jumping off point of this website and that continue to shape my thoughts today.
While many hours have been spent reflecting back during my teaching and coaching career (I was fortunate to coach in a district whose conference required much bus travel, some trips 3 to 4 hours one way), it never occurred to me to organize those reflections into a positive entity.
I owe that concept to my wife Margaret, who suggested I develop them in the form of a website.
One of those major reflections dealt with the ever increasing number of players coming into our program with limited fundamental baseball skills and situational knowledge.
While they had played a lot of games and the Little League system is extensive, their basic knowledge was not.
Fourteen years ago I was presented an opportunity to join with The Arizona Diamondbacks Baseball Academy in a program designed to help address the above situation, as well as teach life skills through the medium of baseball.
The program conducts week long camps all over the State of Arizona, for kids age 6-15. I quickly realized the eroding of skills was not centered in my district and surmised that it is undoubtedly nationwide.
To that end, I hope to provide a free source of information for youth coaches, parents and players, based on my experiences, while providing myself an opportunity in some small way, to thank and give credit to all those who have done or are currently doing so much to contribute to my life.
As we move forward, striving to develop and present positive information on this site, will always be a priority.
If you find things you like or don't like, or were helpful or not, please let me know. If you have questions, I will attempt to answer them.
Should there be something you would like to see included on the site that isn't here, please let me know and an attempt will be made to provide it, if possible.
Good luck to all of you in your endeavors.
Yours in Baseball,
Rick
What Makes Baseball So Exceptional?
One of the exceptional things about baseball is the way it parallels life. As an individual learns to cope and prosper in the myriad of ups and downs that are constantly presented to them in this game, you build a confidence to deal with all that life has to offer outside of baseball; both positive and negative.
We have all heard from early in our careers that BASEBALL IS A GAME OF FAILURE! I always understood the concept, generally related to an individual's batting average, whereby you are considered successful and a possible Hall of Fame inductee, if you get three hits for every ten at bats, equating to a .300 batting average.
Much time has been spent thinking on it over the years(those darn bus trips), and I tend to take issue with the word failure. Possibly a more productive way to look at all those "FAILURES", is to view them as OPPORTUNITIES TO LEARN.
Focusing on learning from and correcting mistakes, rather than dwelling on them, is as healthy within baseball as it is outside of it.
May The Most That You Desire Be The Least That You Accomplish!
The image below is from Chase Ballpark, formally Bank One Ballpark, home to The Arizona Diamondbacks.
I have had the priviledge of being on the field at Bank One/Chase Field as an All Star game coach, as a Diamondback's Baseball Academy coach, and for Baseball Academy appreciation nights. On each occasion, the sheer vastness of the stadium leaves you with the question, what would it be like to field baseballs or actually hit from home plate, in that environment?
This fall, the Diamondback's made available to Academy coaches, just such an experience, a Saturday morning on the field at Chase, to take BP, shag and field groundballs and flyballs.
I enthusiastically took advantage of the opportunity, and made the drive from Tucson to Phoenix to participate.
For myself, I began chasing "the dream", at age 6, some 55 years ago. Like most of us, it began with that first game of catch, as the game just reaches out and engulfs your soul.
Thirty eight years ago I had let go of that portion of the "dream", the portion where you hoped you might be talented enough to ascend to that 1% level and actually compete in that environment. I had kept, at the far end of that dugout that's in your mind, a restructured "dream", that wish to actually throw, catch, and swing in a Major League stadium.
I can truthfully say that standing out on that field, I felt very, very small. While hitting BP and fielding ground balls was not overwhelming, catching fly balls off the bat was the hardest to accomplish. At 61, the legs certainly weren't running anything down, and I found it hard to judge the ball coming out of that third deck.
One of the many player adjustments from minor league baseball to the Majors, is that Major League Stadiums have 3 seating levels. Most minor league stadiums, if not all, at most have 2. It would take getting used to, especially full of people.
My personal thanks and gratitude go out to The Diamondback's Baseball Academy and their staff who reached in, plucked out the restructured "dream", allowing their Training Centers coaches to have that experience. It was great fun for all of us.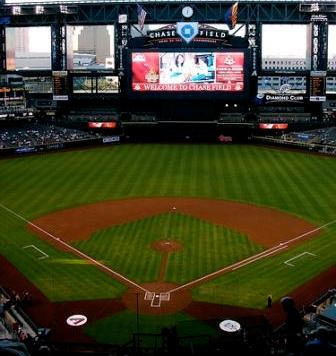 In 1967, while playing for Galesburg, in the Central Illinois Collegiate League, the league took all of the teams to Busch Stadium in St. Louis to watch the Cardinals play the Phillies. I was 19, had just finished my sophomore year in college. It would be my first time in a Major League stadium.
The experience began with a tour of the Cardinals clubhouse and locker room, moving out through the home dugout and onto the field.
As I gawked around, taking it all in, I looked over at the bat rack. The temptation was too much, I reached in and pulled out a bat. It happened to belong to Mike Shannon. I will never forget how big, and heavy that bat felt. When I was 10, I had gotten a broken bat, in spring training, from Willie McCovey. I glued, nailed and taped that bat, dragged it to the park and used it day after day, for years. Never really grew into it; but I kept swinging it. That was one heavy bat, part of my first ever weight program.
"I've Just Been So Lucky. I Played In The World Series In My Home Town And I Hit A Home Run Off Of Whitey Ford. Man, I Can't Even Dream That Good". ( Mike Shannon, in the St. Louis post-Dispatch, Aug 11, 1996 )
When it was time to go back out and up to our seats, things got even better. Our seats were in the boxes, directly behind home plate. You were able to see, and hear, everything. You could actually pick up the spin on each pitch. As a baseball person, it doesn't get any better than that.