~ My Site Build It! Story ~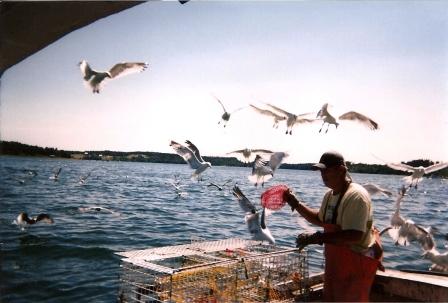 A teacher and baseball coach for 31 years, I retired in 2003 to explore some new adventures in life.
My brother-in-law is a lobster fisherman, living on an island off the coast of Maine. On an earlier vacation visit, while still gainfully employed, my wife Margaret and I had an opportunity to get a leisurely induction into the world of a lobster fisherman.
A fun and exciting day, to see something we had never seen before, in a land and environment so far removed from the Sonoran Desert my wife and I grew up and live in.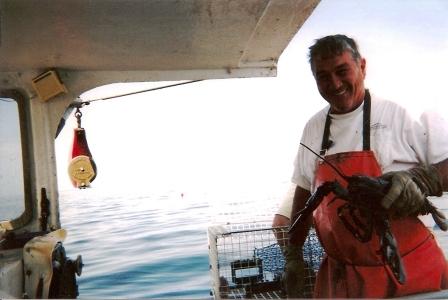 Learning of my impending retirement plans, Bill suggested I could come to Maine and serve as his "Sternman", for the summer of 2003.
My wife and I discussed it and we decided I would take him up on the offer, and the plan was hatched.
Let The Adventure Begin
Armed with enthusiasm; but little else to prepare me for the mysterious world of the lobster, I hopped aboard a plane headed for the State of Maine.
Along with my luggage, I carried with me a realistic apprehension ( I had been on the ocean twice in my life, a few hours on a boat in Florida, resulting in a wish to die rather than continue with the sea sickness that had engulfed my entire being. The second was the short tourist day trip with Bill, where we watched them haul 2 strings of traps.)
That excursion was inside the bay, between two islands. It wouldn't be long before I discoverd there was a big difference between inside traps and outside traps. Kind of like your kids inside voice and their outside voice. Everything outside is heavier and generally in perpetual motion, as you don't have the wave protection that you have in the inside bays.
I was not exactly Captain Ahab. Would I be up to the task? What exactly was the task?
I had seen Bills' sternman in action on our previous visit; but I was in tourist mode, not potential sternman to be mode. I found myself wishing I had paid more attention to what he was doing.
My greatest fear was that I would be a liability and cost Bill money. I can tell you truthfully that lobster traps, the gear and boat to make it all happen, are a big investment to each individual fisherman. They are a hard working, independent lot ~ just what this country was founded on.
For someone from the Southwestern desert, they can also be very hard to decifer. Many was the time we pulled along side another boat, and as Bill and the other Captain talked in "Lobsterese", with a Maine accent, I caught up on filling bait bags, understanding only a word or two here or there.
Four Months Of Adventure And Education
What a great experience it turned out to be. I now have a deep appreciation for what those who comercially fish for a living endure, day in and day out. I saw things which came up from the ocean bottom, inside a lobster trap, that you would swear must be extinct.
A healthy respect was developed for the speed and tenacity of a crab, and the pain it is able to inflict on your fingers. Lobsters? If you are around one, make sure he/she doesn't get their claws on you. I only made that mistake once, they are truly powerful.
My athletic experience taught me much about teamwork, which was an asset on the boat. The Captain and sternman have to be in sync at all times. Traps come up, have to be emptied, bait bags emptied and rebaited, traps stacked to go back down and lobsters banded. In between buoys, fill bait bags to replace what you have used.
Personally most important, stay clear of the ropes. They are everywhere and when resetting a line of traps,they are in rapid motion. Getting caught up in those ropes can take you over the side, tied to a string of weighted traps, headed for the bottom of the ocean. When you consider the weight of the oilskin pants you are wearing, clothes and rubber boots, swimming isn't much of an option.
If you find yourself with nothing to do, then you probably don't know what you are doing. It is nonstop from start to finish. When you are having a good day and into a solid run of lobsters, a tremendous rush indeed!
If You Have Never Seen It, Some Pictures For Your Enjoyment
A Few More
As Promised, My Site Build It! Story ~ From Lobsters to Site Build It!
From lobsters to Site Build It!~ One led to the other.
Arriving back in Tucson, it was October. Looking for a part time job, to go along with coaching high school baseball and working youth baseball camps for The Arizona Diamondback's Training Centers, it would soon become apparent that would be a hard match to create.
I decided to try and locate something I could do from home, that would be portable to anywhere we might decide to relocate in the future.
Through the miracle of television advertising, a company was located that said they had such a program. All that needed to be done was pay a small amount of money up front for their DVD.
The program turned out to be a multi level marketing business, selling products I did not and would not use. This wouldn't be a good fit. Not much for selling, in any form.
My wife and I continued talking about what that something might be, when she suggested creating a website on baseball, something I had a lifetime of experience in and a passion for.
You can do that? She said that was possible, so we started googling, "how to build a website". Up popped a site with informational steps on how this could be accomplished. A lot of information, especially for someone who had minimal technological skills. I used our computer for email, some surfing and to keep my baseball teams' statistics on a predesigned program.
Sandwiched in with all the information was a statement about a company called Site Build It!, through which an individual could get the technical things done, leaving you free to work on material for your site.
Sounded good, we clicked the link.
Intriguing to say the least; but skeptical I was. Not one to just jump in with both feet, I must have gone back to the site 30 times or more before I decided to take them up on the free trial, satisfaction guarantee.
SBI! has a no-risk, 30-day money back guarantee. It's a risk-free decision that you can make with confidence and peace of mind.
I assume the guarantee is good. I had no reason to use it, as Site Build It! delivers above and beyond their promise. Their step by step program prepares you for all that is to come, as you learn skills you never thought you would have.
The end product, a functional website where you are able to produce material about a subject on which you are passionate and knowledgeble. For me, an opportunity to give back for all those who have given so much to me in my life, and continue to do so today.
SBI Tips ~ From the Dugout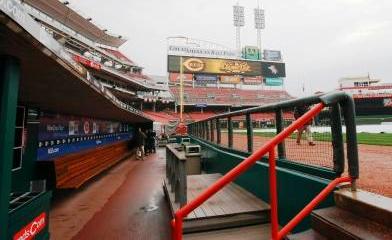 What Have I Found Special About SBI?
SBI! removes the technical barriers allowing you to keep your attention on building your business. Many functions are completely automated. You don't need to know anything upfront about building a Web site in order to succeed.

The tedious, "under-the-hood" stuff is handled automatically so you can focus on other important business-building activities.




The SBI family, and they truly are a family. The SBI! private forums provide friendly, helpful support from other Site Build It! users.

Help is available from folks who are in the same place as you. This peer-to-peer support gets you over the humps along the way in a stress-free environment.

Help is available even for advanced questions. The forums are a business-building support community ready to help you succeed.

Forums are only as good as the individuals who frequent them. This is where SBI shines. Their motto, Pay It Forward. People do, to the benefit of others who need some help along the way. All that is asked is that you return the same when you are able.

What a truly great feeling it is when you are able to pay it forward for another SBI'er. Feel good moments indeed!




When you are developing your site on a topic you are passionate about, it is not work. Not to say it doesn't require time and effort, because it does. I tell my baseball players and D'backs campers that baseball will always give back more than you put in. SBI is that way also.



Believe in their mascot, the Tortoise. The tortoise approach symbolizes SBI!'s steady-and-sure approach. It's definitely not GRQ (GetRichQuick) and keeps you from getting distracted by false promises or dead-end tools and strategies that end up costing more money. Experienced users will appreciate avoiding time-wasters that don't help you succeed. Think of it as a simple, direct, hype-free path that leads to success.



Page creation is as simple as riding a bike with its training wheels still attached. No need to know HTML. The block-by-block builder trains you how to write a page that is both "Search Engine and human effective." It's simple, do-able and most importantly, effective site-building. The block-by-block builder is perfect for beginners, but even many "advanced" users should start with this tool. It's an excellent way to break bad habits!



Fast, reliable, state-of-the-Net Web site hosting is all included with SBI!. You don't have to worry about choosing the right "hosting" features (size, capacity, etc.). Web hosting is included, no nonsense, no hidden clauses.



PREselling is a concept "invented" by SiteSell, part of the C T P M process. The concept is simple. As small business people, you do not have a brand name that is known and trusted. So you have to build that before you can monetize. Seems obvious, right? So few people do it, or they don't do it right, online.
---
Try SBI ~ If I Can Do This, So Can You!