Double Steals ~ Working To Keep Up The Pressure, Get Two Runners Into Scoring Position, or possibly score a run!
Photo Bill Stanton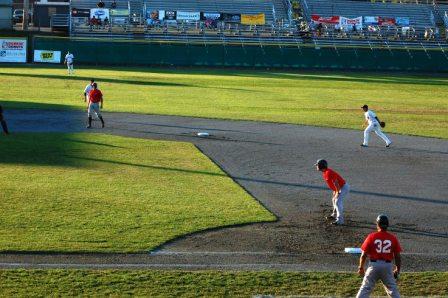 Double steals, working to keep up the pressure, get two runners in scoring position, or possibly score a run.
The double steal puts a great deal of pressure on the infield defense, particularly with runners on first and third.
In either situation, once the offense starts those runners, the defense immediately has multiple problems to deal with. The first is a runner or runners stealing a base(s). Because there is a pitch and a batter, the potential is there for a bunt, bunt and run, hit and run, fake bunt and hit, or a created play worked between the runners, with no batter input.
The beauty of it all is that the defense, on the pitch delivery, does not know the offense's intent, thus creating some delay in their decisions. Instant advantage to the offense.
Each time the defense is pressured, that window of opportunity for mental and physical mistakes starts to open.
The more the offense is willing and able to do, the wider that window opens and the harder they become to defense.
It can become that proverbial "snowball rolling downhill" for a defense.
Runners On First And Third







The centerpiece of this base running situation, designed to score the run from third and put another runner in scoring position.



The runner from first is getting a good jump, stealing second base.



The runner at third base is reading the throw by the catcher, if he gets a jump he is going to the plate.



There are a few wrinkles the offense can put into this initial first and third double steal. These special plays create a lot of disruption within a defense.


Runners On First and Second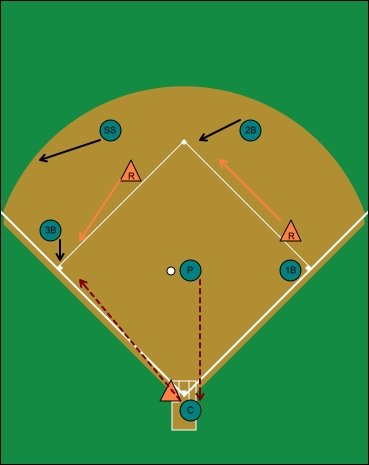 Runners are going on the pitch, straight steal.



Lead runner should attempt to get a walking lead into the steal, for the best advantage.



Not as common a play in this base running setup as the first and third; but still very effective if pitcher is not paying attention to the runner at 2B, or is locked into looking a set number of times before delivering the pitch.



Having the batter fake a bunt, drawing the bat back at the catchers eye level, can help keep the catcher back, increasing the runners chances.



Double Steal Tips ~ From The Dugout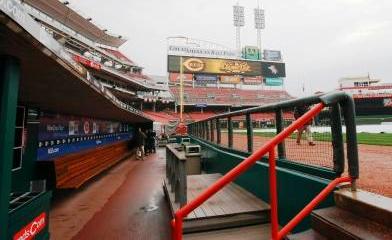 Hitters can set up deep in the box, keeping the catcher as far back as possible. If you have added a bunt to this steal, hitter should move up in the box to increase his chances of bunting the ball fair.
A defensive play is at least 5 times as difficult to make as an offensive play, you have the advantage.
Study the pitchers so that you get good jumps, making it even harder on the defense.
Additional Offensive Situations
return from double steals to the ole ballgame.com