Base Running, 25 Ways To Score From Third Base, But Not From Second Base!
Base running, 25 ways to score from third base; but not second base. Who would think there were that many, or better yet, who would take the time to write them down?
That someone is the legendary Gordie Gillespie, longtime baseball, basketball and football coach. With a list of accomplishments far too numerous to list in this section, Gordie might best be described by a quote associated with Paul Bear Bryant, the late, great Alabama Football Coach.
It was said of Bryant, "he could take his and beat yours, or he could take yours and beat his." Within a few minutes conversation with Gordie, you realize he has that same presence and that you are in for a tremendous experience. This is someone you immediately would love to play for, or coach with.
In the 90's I had the opportunity to meet this true legend of American Baseball, Gordie Gillespie. The initial meeting was in conjunction with football, as my best friend had just been hired as the head football coach at our high school and I was to become his offensive coordinator.
He was fortunate to have played high school football for Gordie in Illinois, and we met with him while he was in Arizona on vacation, to help develop our offense.
I probably shouldn't admit this; but as the meeting progressed I was planning how I could arrange to spend some time with Gordie to talk baseball. My playing days far behind me, I had been coaching high school baseball a little over 20 years and was, still am, always on the lookout for a better way to do things.
The football meeting was tremendous, as was my subsequent baseball meeting with Gordie. There is the vast knowledge of how to go about teaching baseball skills; but the overriding component is his true love and respect for the game of baseball and his players.
It is more than just a game, "BASEBALL IS LIFE," as Gordie once said on national television. I have found it to be just that, in my 45 plus years of ~ Life in Baseball.
The first component of my offensive baseball philosophy has always been, get a runner to third base with less than two outs.
I had always based that on the scoring possibilities of the sacrifice fly, the squeeze bunt, or the passed ball / wild pitch. While reading Gordies list of 25 ways to score from third base, it provided me with an in depth awareness of why we do things.
To follow is that list, with all credit for its' content to Gordie Gillespie, without a doubt the most inspirational baseball coach I have ever met.
Base Running Tips ~ From the Dugout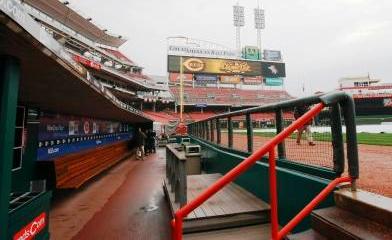 Base running, 25 ways to score from third base, is solid ground upon which to build your offensive philosophy.
Each situation on the list happens with varying degrees of frequency; but all contain one common thread, none of the 25 become a possibility until a base runner is occupying third base.
Once that base runner is on third base, the pressure on the defense increases. In many situations it makes the defense adjust and move, creating gaps in the defense, increasing the hitters chances of being successful.
In 2001, the Arizona Diamondbacks defeated the New York Yankees in the seventh game of the World Series, with just such a situation.
The Diamondbacks, trailing 2-1, were to face Mariano Rivera, whose career post season ERA was at 0.70. It looked to be an uphill battle.
Mark Grace led off the bottom of the 9th with a single. Arizona decided to put down a sacrifice bunt, which Rivera fielded and threw wildly, putting the tying run at second and the winning run at first. Tony Womack then hit a double to right field, tying the game.
Craig Counsell stepped in, and was hit with a Rivera pitch to load the bases. The Diamondbacks had managed to load the bases with one out, forcing the Yankees to play the infield in, as the winning run was now at third base. Luis Gonzalez was jammed on a Mariano Rivera pitch, resulting in a Texas League fly ball just beyond the back of the infield dirt, falling softly in the grass for the series winning RBI.
With no runner on third, the infield is back and Luis Gonzalez becomes out number 2, instead of World Series Hero, and who knows what may have happened from there. The Yankees would have been able to back their infield up, possibly getting out of the jam.
This was only one example of what must be millions, that have occurred in the 170 plus years of baseballs existence.
It is also a great example of "MAKING YOUR OPPONENT PLAY THE GAME". Even at the highest level of baseball, nothing is automatic.
25 Ways To Score From Third Base ~ But Not From Second Base!
A balk.



Catchers' interference.



Wild Pitch.



Passed ball.



Hard hit ground ball through the infield and directly in front of an outfielder.



An error by an infielder which eludes him by more than 10 feet.



Short pop up just beyond the infield, that is dropped by a fielder.



Short line drive or a bloop single just over the infield.



Sacrifice fly.



Fair pop up dropped by an infielder with 2 outs.



Fly ball dropped by an outfielder.



Bases loaded walk.



Bases loaded hit batter.



Wild throw by the catcher, back to the pitcher.



Ground ball, early in the game, runners on 1B and 3B, no outs and the defense decides to go for the double play.



Wild throw by the pitcher attempting to pick runner off 3B.



Wild throw by pitcher attempting to pick runner off 1B.



Wild throw by catcher in attempting to pick the runner off third base.



Wild throw by catcher attempting to throw out runner trying to steal 2B.



Dropped throw from catcher on an attempted steal of 2B.



Runners on 1B and 3B, less than two outs, the runner on 1B heads for 2B, the catcher throws to the cutoff man, who makes a wild throw back to the catcher.



Suicide squeeze bunt.



Steal of home.



Wild throw by an infielder attempting to throw out the batter at 1B.



Interference by an infielder during a rundown play at third base ( note: Although the base runner may even be heading back toward third base when he is interfered with, he is nevertheless permitted to score because an obstructed runner is awarded at least one base beyond the base he last legally touched. )
Once Again: Luck Is When Preparation Meets Opportunity!
Additional Topics On This Fun, Yet Overlooked Part Of The Game
Base Running


What gravy is to Thanksgiving, the running game is to baseball.
Home To First


A full out sprint towards first base; REMEMBER, HUSTLE NEVER HAS A BAD DAY.
First To Second


Look immediately to the person giving the signs.
First To Third


The runner needs to think "Coach ~ Base ~ Coach", for his reads.
Second To Third


The base runners first and foremost responsibility is to keep track of the baseball.
Third To Home


For the base runner, this is the exception in leadoffs, as you lead off in foul territory.
Stealing Second


As you step out into your lead, all these feelings intensify as you lock in on that one movement the pitcher is about to make, a movement that will send you speeding towards second base.
Stealing Third


It is often easier to steal third base, than second.
Delayed Steal


Here you are using the element of surprise, a great equalizer.
Special Plays


Plays designed to amp up your running game, catching your opponent off guard while creating pressure on the defense.
return from baserunning 25 ways to score to theoleballgame.com