When to steal 3B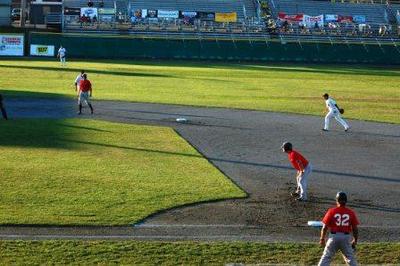 Photo Bill Stanton: Checkswing.com
Corey asked: I know the cardinal rule of do not make the 1st or 3rd out at 3B; but for 8u-10u baseball, when the bases are shorter and the fielders not as good should you only steal 3rd with 1 out?


I'm trying to set a winning strategy, while wanting to respect the game and more importantly prepare these young boys for years down the road when stealing 3rd will be way more difficult.


Rick answered: Corey, thank you for your question!

I would suggest never say only with one out, as levels below professional baseball have very different circumstances, due to the difference in physical skills.

There are factors within the game that are at work on all levels, which make getting a runner to third base with less than 2 outs a positive philosophy. Stealing third is one way to get there and may be better not to limit a team's offensive possibilities with concern that there were no outs or two outs.

I have always coached offensively with the philosophy of working to get a runner to third base with less than 2 outs. It was always based on the scoring possibilities of the sac fly, squeeze bunt or passed ball/wild pitch.

There are, in reality, 25 ways to score from third base ; but not from second.

The link above will take you to a page on the site where you can look at
the list, as well as some history behind the philosophy.
While some of these possibilities happen more frequently than others,
it is certain that none of them happen until there is a runner on third to take advantage of it!
Many people in baseball believe it is easier to steal third, than it is to steal second.
At the high school level we have found it so. Pitcher's and middle infielders rarely work effectively to hold down a runner's lead, as well as, in the attempt, often put themselves in a weaker defensive position on a hit ball. Advantage to the offense.
From a coaching standpoint, I would be more conscious of the game situation and stop running, whether from first or second when the scoring gap widens. Just because you can, doesn't always mean you should.
When the game is close, it is a valuable skill and, if practiced, is an offensive tool which creates a great deal of pressure for the defensive team. Again, advantage to the offense.
Ty Cobb's philosophy
was,"A defensive play was at least 5 times as difficult to make as an offensive play."
So often
base running
becomes a part of the game that gets sacrificed, due to all that needs to be taught. Working on all base running skills is as essential as hitting, throwing and receiving. You are on the right track.
Good luck as you move forward.
Yours in baseball,
Rick