Force Out???
by Steve
(Fresno, CA, USA)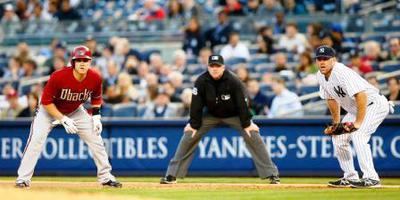 Force removed on the put out at 1B, runner has to be tagged at 2B.
Steve asked: Base runner on first.

Batter hits the ball and is thrown out at first on a fielders choice, the ball is now thrown to second.

Would it still be a force out at second with first base technically unoccupied?


Rick answered: Steve, thank you for your question.

When the out is recorded at first base, the force is removed. To record the out at second base, the defense needs to tag the runner on the back end of this play.

This play is most often associated with a runner on first, ground ball hit to the first baseman close to the bag.

First baseman fields the ball, steps on first base to put out the batter-runner. As he is doing that, he yells out "tag", to alert the middle infielder covering that he has to tag the runner.

Coaches teach it, then reinforce it in practice with situation repetitions.

Yours in baseball,

Rick
Join in and write your own page! It's easy to do. How? Simply click here to return to Ask The Baseball Coach.