why when a hitter doesnt hit regularly in three or more weeks, sent down to AAA and one of those guys, who is hitting, brought up? The pitching could not be that different.
by Emily
(Scottsdale, AZ)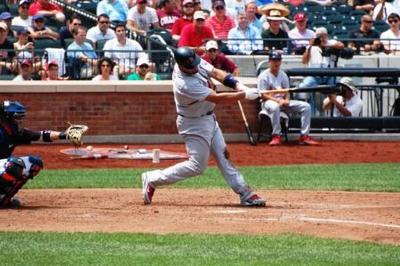 Photo Bill Stanton: Checkswing.com
Emily asked: Does the players union have the league so locked up with rules that a non hitter like Travis Hafner is permitted to keep taking up space in the lineup.

There are good players, in Columbus, who could make a positive contribution.

Tonight, Jim Thome, who is quite a bit older than Hafner, hit a home run for the Orioles as the DH.

Hafner strikes out constantly. Why are these multimillionaires not held accountable? It seems simple and obvious to the untrained eye. Perhaps I am just too tough on these gentlemen, I know they have fragile egos.

Rick answered: Emily, thank you for your question.

The reasons for why players move up or down generally are more complex than one would think.

Contracts and money invested are one factor, what the organization sees as the individual player's role is another, readiness of players in the system below the MLB club, and other reasons only the organizational management would know.

Performance in baseball is generally measured over a longer, not shorter, period of time. Hitting is only one aspect of a players game that has to be considered. There may be additionl positives a player brings to the clubhouse such as leadership, stability, defense, and many more.

Depending on their history with other teams, or their current team, if they have been successful in the past, organizations will go longer and be more patient as they work through and out of slumps.

When a player is hitting well at the AA or AAA level, it does not guarantee they will be successful at the MLB level. There definately is a difference in the pitching, as well as the atmosphere and pressure that comes with MLB.

Size of the stadiums, 3 deck levels of seats instead of 2, vast differences in attendance. Teams tend to stay longer with players who have been there and proven in the past they can play at that level. Much has already been invested, in money, as well as time.

When a player has been successful in the past; but is currently not producing as they used to, you have to look at the current structure of the team also.

Have the players hitting before or after this individual changed? If the players hitting behind this individual are not having a good season, pitchers do not have to pitch to him as they feel they can get the players behind him in the line up out, thus he gets less and less good pitches to hit.

When that happens, some players stay patient and take their walks, some players get aggressive and swing at bad pitches, which generally leads to more strike outs.

Everything is tied together from a lot of directions. Generally, there is no simple answer as to why. Hopefully the player works out of the slump they are in, or the organization surrounds him with some protection within the lineup and he starts getting better pitches to hit.

Yours in baseball,

Rick




Join in and write your own page! It's easy to do. How? Simply click here to return to Ask The Baseball Coach.