why is home plate shaped the way it is?
by david
(benton,illinois)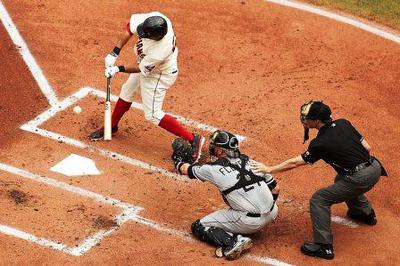 Home Plate Designed To Be Completely inside Fair Territory.
David asked: Why is home plate shaped the way it is?



Rick answered: David, thank you for your question.


Baseball fields are laid out from a starting point, of the back point, of home plate.

Field design calls for all bases, first, second, third and home plate to be located inside fair territory.

By design, home plate has to have the angle cut to it, so that both baselines intersect at the point. If the plate was square, as the other bases, there would be a portion of home plate that would be located in foul ground.

Looking at the images above, you have to visualize the path of the baseline, as it is never physically put in through the area of the batter's box.

Baseball field dimensions have withstood the test of time. Ingenious for sure.

The game today plays pretty much as it did when it was conceived.


Yours in baseball,

Rick


Join in and write your own page! It's easy to do. How? Simply click here to return to Ask The Baseball Coach.