who was the first person pudge threw out at second base as an MLB catcher. not minors! But as a Ranger.
by JeremyQ
(Dallas tx)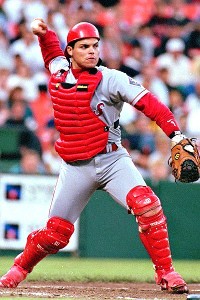 Pudge Rodriguez
Jeremy asked: Just wanted to know WHO was the first pro throw out for Pudge?



Rick answered: Jeremy, thank you for your question.

I was unable to locate the name of Pudge Rodriguez's first throw out for Texas.

Undrafted by a MLB team, he signed a free agent minor league contract with the Rangers on July 27, 1988.

Called up to the Rangers on June 20, 1991, he threw out 49% of base stealers in each of his first 2 years in the league.

Yours in baseball,

Rick
Join in and write your own page! It's easy to do. How? Simply click here to return to Ask The Baseball Coach.