what is the official score on the question below?
by Steve
(Redding, Ca.)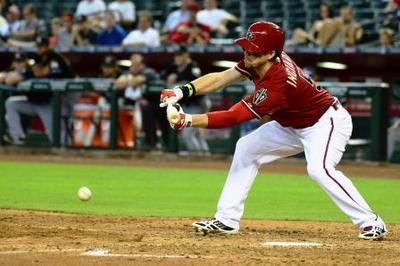 A Successful Bunt Requires That A Hitter Bunt First, Run Second.
Steve asked: Runners on 1st and 2nd no outs.

Batter bunts the ball down 3rd base line, the defense throws the ball to 3rd base trying to force the runner.

The runner is called safe and the other 2 runners are safe as well. There were no bobbles or over throws just a clean play.

What do you put in the scorebook for the batter? Sacrafice? Fielders choice ( though I don't think this would be correct because you shouldn't penalize the hitter for a good bunt)? Base hit?

Thank you, Steve


Rick answered: Steve, thank you for your question.

Section 14 Fielder's Choice Art 1...A fielder's choice is the act of a fielder with a live ball, who elects to throw for an attempted putout or to retire unassisted any runner or batter-runner, thus permitting the advance of another runner(s).

The scorer decides whether the batter is credited with a safe hit or an extra base hit in accordance with the following: Section 3 Player's Batting Record Art 2...A base hit is credited to a batter when he advances to first base safely: (c) because of a fielder's choice (2-14-1) when a fielder attempts to put out another runner but is unsuccessful and the scorer believes the batter-runner would have reached first base even with perfect fielding.

The decision as to whether the at bat becomes a fielder's choice, or a base hit lies solely with the official scorer.

If the scorer feels that the batter would have reached first base safely, even with perfect fielding by the defense, he can record the at bat as a hit, even though the fielder chose to go after a base runner.

Location of the bunt becomes a part of the equation as well.

Generally speaking, with a clean fielding play, it would most likely go down as a base hit.

Yours in baseball,

Rick


Join in and write your own page! It's easy to do. How? Simply click here to return to Ask The Baseball Coach.