What is the correct call?
by J.B. Stewart
(Green Bay, WI)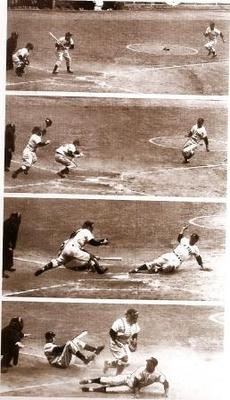 J.B asked: RUNNER ON THIRD ATTEMPTS TO STEAL HOME ON THE PITCH.

THE CATCHER CATCHES THE PITCH THEN STRETCHES OUT TO TAG THE RUNNER COMING HOME.

THE BATTER THEN SWINGS THE BAT STRIKING THE CATCHER IN THE BACK OF THE BICEP WITH FULL FORCE.

THE UMPIRE CALL THE RUNNER SAFE BECAUSE HE THOUGHT HE DROPPED THE BALL AFTER THE BAT HIT HIM; BUT STILL HAS THE BALL IN THE GLOVE AS HE LAY FACE DOWN IN PAIN.

SHOULDN'T THEY BOTH BE OUT DUE TO THE VERY LATE SWING BY THE BATTER?


Rick answered: J.B, thank you for your question. This one surely must have gotten animated quickly.

The runner is out due to the tag, the batter would be out or not out due to the following:

The rule covering this situation is Rule 7-3 sec 3...Batting Infractions - A Batter Shall Not:

Art 5...Interfere with the catcher's fielding or throwing by:

a. leaning over home plate

b. stepping out of the batter's box

c. making any other movement which hinders actions at home plate or the catchers attempt to play on a runner

d. failing to make a reasonable effort to vacate a congested area when there is a throw to home plate and there is time for the batter to move away

Penalty: When there are two outs, the batter is out.

When there are not two outs and the runner is advancing to home plate, if the runner is tagged out, the ball remains live and interference is ignored.

Otherwise, the ball is dead and the runner is called out.

When an attempt to put out a runner at any other base is unsuccessful, the batter is out and all runners must return to bases occupied at the time of the pitch.

If the pitch is a third strike and in the umpire's judgement interference prevents a possible double play ( additional outs), two may be ruled out.

Depending upon how the umpire viewed the batter's action, it is possible the batter could be ejected from the game for unsportsmanlike conduct.
That would be a judgement call on his part, based on what he saw, whether he felt the bater hit the catcher intentionally, or just had really bad timing.

Be interested in knowing how this actually turned out at the time. Sounds like the umpire missed it on all counts.

Yours in baseball,

Rick
Join in and write your own page! It's easy to do. How? Simply click here to return to Ask The Baseball Coach.