What Cleveland Indians pitcher struck out Joe DiMaggio three times in one game?
by william
(henderson nv.)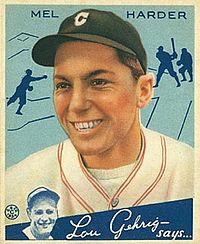 Mel Harder, Pitcher, Cleveland Indians, struck out Joe DiMaggio 3 times in one game in 1940
William asked: Can someone give the answer to this question?

Rick answered: William, thank you for your question!

Mel Harder is the pitcher you are looking for.
He was born Oct 15, 1909 and died Oct 20, 2002.






Joe DiMaggio recalled he had more difficulty batting against Harder than just about any other pitcher, hitting only .180 lifetime against him, striking out 3 times in one game in 1940.






His nickname was the chief and he played his entire career with the Cleveland Indians.






He was the only Pitcher to work 10 or more All Star games without allowing an earned run.






The only man in Major League history to have both 20 year playing and coaching careers.






Only Walter Johnson and Ted Lyons pitched more seasons with one club.






Only man to play 20 seasons for one franchise who is not an active player, in the Hall of Fame, or on the Hall of Fame ballot.






Harder threw the first pitch ever thrown at Cleveland's Municipal Stadium in a 1932 game, and the last pitch there, as well, in ceremonies after the final game of the 1993 season, before the Indians moved to Jacobs Park.






Yours in baseball,
Rick