Tommy John and Its Impact on the Younger Generation
by Brennen S.
(New York)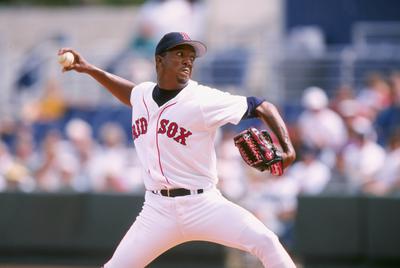 Pedro Martinez
Brennen's Personal Baseball Story: To start off, I do not coach a team myself but I am a pitching instructor. I am also in college and play competitively for my respective school.


Recently, I have undergone Tommy John Surgery and I would just like to take this opportunity to tell the player and coaches side of Tommy John Surgery.

As a player, before tearing my Ulnar Collateral Ligament in my left elbow, I always felt bad for guys who have had the surgery, but never thought it would happen to me. I would warm up thoroughly and make sure I was lose before even warming up in the bullpen or prior to pitching in a game.

However, my coach made some changes in my mechanics to try to increase my velocity. This change made my arm action turn to the dreaded "Inverted W".

Our first home game of the season, April 1st I came into the game in the 4th inning, we were down by 9. No real pressure in this situation.

However, as a competitor you want to go out there and pitch as if it was a 0-0 ball game no matter what.

My first inning of work was rather clean only giving up two hits but getting out of the jam. I felt tightness in my elbow and thought it was just the cold, April weather in Buffalo. I could not have been anymore wrong.

I went out the next inning, walked the first two guys and didn't know what my issue was. At this point my coach was frustrated with how I started the inning.

The third batter, I started with a slider. After that pitch I felt a tighter pull on my forearm. I told myself I would finish the inning and talk to our trainer about it. Next pitch was a 2 seam that ran more than anything I have thrown in my life. I heard and felt a pop in my elbow, followed by the sharpest and most painful thing I had felt in my life.

I had completely torn my UCL. I spent the next month at school just going to class, not able to play and just frustrated with my situation. This was until I looked at the positive outlook on what had happened.

I could be the example
for younger players who are aspiring pitchers or position players.
When I came home for the summer I gave a few lessons to some guys I worked with in the past. They are little league aged but I told them all the same thing. "Be Smart, your arm is the most important thing to having a future in baseball. If something doesn't feel right, speak up." For me in a coaching point of view I would never want anyone to go through this procedure. It is preventable.
At all my lessons I ask how they feel before they start to throw, how they feel during their bullpen and how they feel after. They do not throw more than 40 pitches per bullpen.
Kids need to know that arm pain is no joke.
Baseball is a game. Games are fun. Baseball is not fun when you are playing in pain or not at all because of your arm.
In my opinion the regiment of warming up and being smart about pitching starts when they are young. It should become a permanent part of their life before a game or practice. This is also the responsibility of the coach to make sure his players are warmed up properly and that if they do have players with arm pain that they speak up.
Set strict pitch counts for guys and stick to it.
I love the game. It is hard to wake up unable to go play everyday and just think about throwing. I learned from my experience that the game can give you the world. I may not be able to play but I can give to the up and coming generation of baseball players so they learn from my mistake, and hopefully pass their knowledge and experiences down to the following generation.
Rick commented:
Brennen, sorry to hear about your situation.
I appreciate you sharing your story, and sharing what you have learned.
It is sometimes hard to get young players to follow a disciplined regimen for throwing. Warmup time quite often becomes socialization time, which can surely lead to arm problems at almost any point.
Warming up properly and paying attention to how your arm feels at any given time can certainly help avoid arm issues.
Pitch counts are also a help. Proper mechanics as well.
Yours in baseball,
Rick