Team Combination, Work-ups Drill; Teach The Offensive, As Well As The Defensive Aspects At One Time, With The Advantage Of Teaching Players Additional Positions.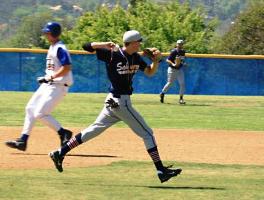 This team combination, work-up drill is a throw back to your days in the neighborhood park.
It provides coaches with the opportunity to see players in different positions, as well as enabling players to gain an understanding of the game from all positions.
The more versatility your players have, the more potential they have for playing the game longer, as well as adding strength to your current team.
Any activity that can be used to place players in a competitive, game like situation, while having the ability to instruct within the framework, is worth it's weight in gold.
Coaches at all levels are looking for players who effortlessly think and move inside the game. This mental aspect of baseball is as teachable a skill as hitting, fielding and throwing. The game of work-ups is one tool to help achieve this goal.
Equipment Needed
Players with gloves and bats.



Field with bases.
The Game


Defense consists of infield, outfield.



Coaches pitch. Coach may also fill the catcher position, or use a screen or cage.


Regular baseball rules.



When a batter, or a base runner makes an out, they get their glove and move to right field.



All defensive players rotate up, as offensive players are put out and move to defense. Example, one player coming out, one position move up. Two players erased on a double play, two positions moved up.



Rotation goes: RF to CF to LF to 3B to SS to 2B to 1B to Hit.



Play everything as a game situation, to include clearing the bases when the third out is made, starting a new inning.



Baseball Team Combination Tips ~ From the Dugout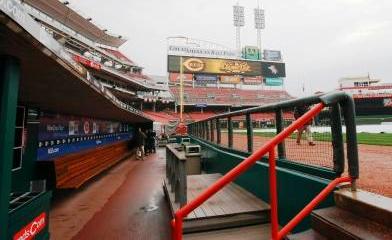 Provides coaches an opportunity to stop game action and make use of those "teaching moments" that are so valuable to player instruction, as they occur in real time.



Players are able to rotate through all positions, thus strenthening team depth and player versatility. Coaches may find a new and better position for players through action in this drill.



Adjust outs and score to customize a situation that needs work. Use the flexibility of the work-up drill to talk to hitters about situational hitting, and what is called for at that moment. Provides players an opportunity to think on their own, then attempt to execute whatever the situation calls for. This is where you want them to be in a game, it is here that they learn how to make it happen when it counts.



Makes a valuable addition to go side by side with intra-squad scrimmages; but saves on your pitching arms and catcher's legs. Can run this workup drill any day of the week, for as long or short a time as you wish. Once into your season, pitchers and catchers become a premium; but the game situation skill work still needs to take place.



For variation, replace the pitcher with a tee, do soft toss or have the hitter toss the ball up and hit. Each provides a different dimension and creates it's own level of interest.



The Theory Of Baseball Is As Simple As That Of Any Field Sport, And Herein Lies One Of It's Attractive Features; And Yet, To Play The Game Up To It's Highest Point Of Excellence Requires As Great A Degree Of Mental Ability As Any Known Game Of Ball. (from The Game Of Baseball by Henry Chadwick, 1868.)
return from team combination work-up drills to the ole ballgame.com