STAT FOR SCORING FROM 2ND BASE ON A SINGLE
by REED
(PORTLAND, OR)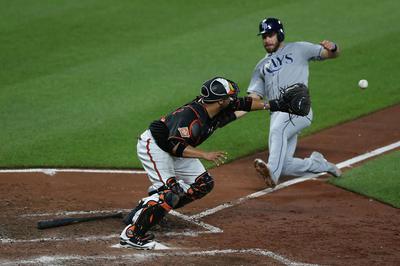 Odds For Scoring From Second Base On A Single.
Reed asked: WHAT ARE THE ODDS OF A RUNNER SCORING FROM 2ND BASE ON A SINGLE?



Rick answered: Reed, thank you for your question.

When a base runner has reached second base, they are considered to be in scoring position, that they have an opportunity to score on a single from that location.

I know of no odds on scoring from there, it all depends on numerous factors that come into play once the batter contacts the baseball.

1. How hard is the ball hit? The harder it is hit, the more difficult it is to beat the baseball to the plate.

2. How fast is the runner? There are those that literally outrun the baseball it would seem.

3. Did the runner get a good read on the ball off the bat? If so, good chance. Bad read, problem.

4. How good, or bad, is the outfielder's arm who has fielded the ball? Also, how quickly did he get to the ball?

5. Was the outfielder coming straight to the ball, or did he have to cut the ball off?

6. Wind behind the outfielder's throw, or is he throwing against the wind?

Given all the above factors, you can see why there are no established odds for scoring from second on a single.

Certainly, all runners at second should be looking to score on a single, going as hard as they can, and counting on their third base coach to help them on whether they hold up or keep on running.

If you aren't running hard from the start, your chances are not good.

Yours in baseball,

Rick




Join in and write your own page! It's easy to do. How? Simply click here to return to Ask The Baseball Coach.