ROLLABAT
by CLINTON
(COTTAGE GROVE OREGON)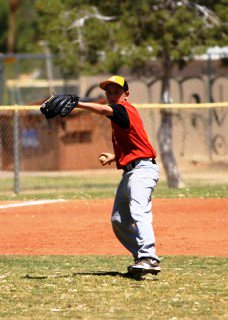 Throwing
Clinton's Drill: 3 TO 5 OUTFIELDERS PLAYING FROM SHALLOW TO DEEP.

1 PERSON AT A TIME HITS VARIOUS FLY BALLS( CAN BE LIVE PITCH ALSO).

CLOSEST OUTFIELDER MUST FIELD THE BALL BY EITHER RUNNING IT DOWN OR CATCHING IT. IF RUNNING IT DOWN THEY MUST THROW FROM WHERE THEY FIELD THE BALL TO HOME PLATE.

The BAT IS LAYED ACROSS HOME PLATE FACING TOWARDS THE FILEDER. IF THE BALL HITS THE BAT BY ROLLING HOPPING OR DIRECTLY, THE FIELDER GETS TO NOW HIT FLY BALLS.

IF IT DOESNT THEN PLAY CONTINUES. OF IT IS CAUGHT THEN THE PERSON WHO CATCHES IT GETS TO HIT FLY BALLS.

TEACHES ACCURACY ON LONG THROWS FROM THE OUTFIELD OR TO THE CUT OFF MAN. ALSO BUILDS ARM STRENGTH AND WORKS ON CROW HOPPING.