Pitching & warming up
by Johnny Wareham
(Newport, OR)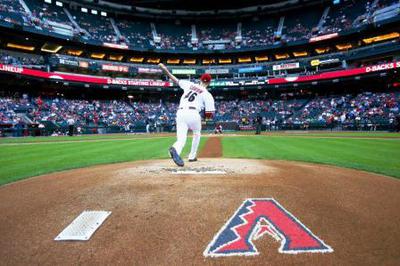 Pitcher Warm-ups
Johnny asked: I hope you can answer a question about warming up.


Starting pitchers, or relievers, when taking their warm ups do various motions with their glove...a sweeping motion, rolling it, etc. I always assumed it was some sort of non verbal sign to the catcher to let him know what pitch is coming.

What do those motions mean, and how many are there?

Rick answered: Johnny, thank you for your question.

You are correct, it is a non-verbal, efficient way to get their between innings warm-up pitches in. Saves time and allows the pitcher to throw just what he feels he needs to be ready for the first hitter in that half inning, at the same time alerting the catcher to what is coming. Never want to cross up your catcher.

Depending on the set up for the workout, pitchers can use the same system in throwing a bullpen, or just getting in some side mound work.

There is a motion for all the different types of pitches. Many I have not actually seen, or at least did not pick up on it at the time.










Fastball ~ Web of glove towards the ground, flick up towards catcher.






Curveball ~ Glove parallel to body, roll thumb over towards catcher.






Change Up ~ Push glove out towards catcher and pull it back.






Slider ~ Sweeping motion with the glove to indicate direction of movement of the ball.






Knuckleball ~ Ball hand extended, move ball side to side.






Sinker, screwball, split finger, cutter. I am not familiar with these motions. Possibly some of our readers can help with these.






Some of these may have the same motion as others above, as they have similar ball movements.
When I first read your question, I was reminded of a funny story I heard at a State Association clinic years ago.
The speaker was Ron Davini, a coaching legend here in the State of Arizona. Coach Davini was a catcher at Arizona State University and the MVP of the College World Series in 1967, which ASU won.
He went on to play professional baseball from 1969-73.
His topic on this day was catching and he opened his talk with this story, of his first Spring Training experience with the Chicago White Sox.
He was catching pitcher's workouts in the bullpen, under the supervision of the pitching coach as well as numerous players and by standers.
The pitcher in this workout was Wilbur Wood, famous for the quality of his knuckleball.
Davini said he had little to no experience catching knuckleballs at that point in time and he was somewhat apprehensive as he settled in.
Wood threw some fastballs, changeups and curveballs, and then indicated a knuckleball. He turned it loose, Davini said he caught it no problem.
Wood continued to throw additional knuckleballs, as Davini continued gaining confidence with each pitch. He began thinking, "this isn't as hard as I thought it would be.
He threw the ball back to Wood, who signaled for another knuckler, following the sign with a verbal "good one". His first thought was"UT OH!"
When Wood turned that ball loose, it was everywhere. Reaching him at the plate, the ball hit him square in the mask, right off his face, never laid a glove on it.
All those standing in the area went into howls of laughter. Davini said he was embarrassed at first; but soon saw the humor in it, as evidenced by the fact he could tell the story at a clinic.
When I started thinking about knuckleball signs, this story came to mind.
Yours in baseball,
Rick