my son pitched a 114 pitches in a 3 day 12u travel ball tournment is this ok
by john
(la mesa ca)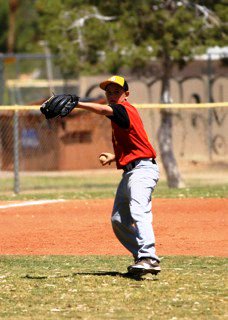 Little League Age
John asked: Trying to see if my son is getting over pitched.



Rick answered: John, thank you for your question.


Let me start by saying, I am not a pitching coach, nor an Orthopedic Surgeon, nor was I ever a pitcher in Little League, High School or College.

I have been a Middle School coach, a JV High School Coach, a Varsity Head Coach, and a Varsity Assistant. I have never been a pitching coach.

Currently I am a Varsity Assistant Coach, my 43rd season overall is coming up.

I am also a coach for a 14u travel team group, last year and this year.

Our travel group has a pitch count limit of 75 pitches for 14u players. Once I have someone warmed up and in the game, max is 75, if he comes up short, he is still done for the tournament.

I live in and coach high school baseball in Arizona. I am currently not sure what the pitching count limits will be this year, as it is an all new structure.

Concerning your question, I believe 114 pitches is too much for a 12u player, even stretched over 3 days.

If evened out, he is throwing 38 pitches each day.

There are additional factors that may sometimes become a part of this.

Each day, there are x number of warmup pitches in the pen to get ready to pitch in a game. Those pitches all count, maybe not as game situation pitches; but certainly throwing is throwing.

If your son plays another position, how many additional throws get made, prior to, or after his pitching appearances.

Also, you need to factor in bull pens thrown in practice, as well as how many actual throws does he make in practice, as a position player fielding ground balls, or an outfielder working on fly balls, relay cuts, etc.

All those throws add up.

As players
get older, they are able to handle higher pitch counts, due to strength gains and maturity.
Pitchers at age 12 probably are the most mature players on the team, thus they get made into pitchers. With that maturity, they also get placed in center field, shortstop, third base, or the worst case scenario, catcher.
It's not that they shouldn't pitch, it just needs to be monitored.
There is much research currently being done on this situation.
If you go to the Coaches Line-up in my site navigation, it will take you to two pages on the site concerning pitch counts.
I am sure there is more current information available online.
I look at most all my 14u kids as pitchers, in some capacity or another. In a 3 day tournament we will use them all, holding to our pitch counts. A team can never have too many pitchers, and the place to develop those pitchers is at the lower levels.
Hopefully, this gives you a look at another perspective. I would be concerned if my 12 year old son was throwing 100 plus pitches over a 3
day weekend.
Just doesn't make sense to lock into that situation at age 12. We had a couple of pitcher's in our Little League, when I was 11 and 12. They were lights out, when I was 11 they got to within 1 game of the World Series.
When I was 12, we got to within 2 games of the World Series.
Neither of them were able to pitch in High School, due to arm issues. Has to be something to that.
One of the issues no one thinks about is the number of throws a player makes in practice, either as a position player or a pitcher. They all add up. Something to think about.
Good luck as you go forward. It is a complex issue.
Yours in baseball,
Rick