My son is a junior playing in JV and is being benched with freshman
by Elizabeth
(US)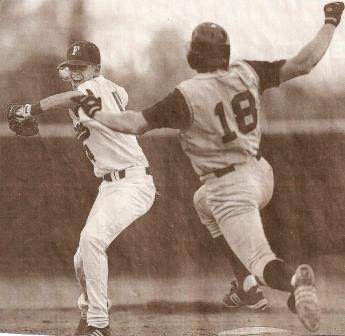 Elizabeth asked: Hello,


I just wanted to get advice on my son's current situation. He is a junior playing in JV and is being benched with freshamn and Sophomore. Currently he is only junior playing on the team the other junior who was playing got hurt. My son might not be a great player but he is a good one (he played in all stars every year when playing in the little league). Coach states that there is a better 2nd baseman player but as I have been to all the games this season I have seen this 2nd baseman player do several of errors.

Don't know how to treat this situtation. Please help.

Rick answered: Thank you for your question.

Let me start by saying that since the varsity coaches kept 2 juniors to go with the JV, they must feel there is potential for them to make the varsity next year and contribute.

My sophomore season in high school, the varsity sent down 1 Junior to play first base. The senior ahead of him on the Varsity was an all city, all state player. The coach knew he would need this junior the next year as a starter and wanted him to get the experience, rather than sit on the bench behind the senior.

The next year, that junior was the starting first baseman on the varsity, anchoring the entire infield, on a state runner up team.

Did the varsity coaches talk with your son before assigning him to JV? It has always been my practice, and the practice of most all coaches I have been associated with to do so, and let the player know what his situation is at that time, and find out if he wants to do this or not. Some players see this as all negative and would rather not play, others see it as an opportunity to improve their skills and gain experience for the next year.

Something for your son to consider, if the JV coach has stated there is someone, in their opinion that is ahead of him now, he may want to look at changing positions, which
could potentially increase his opportunities now and in the future. The more positions a player is able to play, their chances of locating a spot are greatly enhanced.
A good approach would be for your son to talk with his current coach and ask him if it would be possible to start working at other positions, in an attempt to break into the line up.
At that point, the coach can provide some insight into options they could try, or he can also let him know if they don't really have a plan for your son moving forward, or exactly what it is that keeps him out of the line up. There can be many factors.
Once he has that talk, he then has the information to set some goals and a plan for himself, so that he is able to make the varsity next year. Does he need to get stronger, hit better, throw better; whatever it is, it is all good information and something concrete that he can do something about.
He obviously loves baseball, as long as he has played it. Just because this season maybe didn't work out, use the information gained in talking with the coach and set about making improvements to his game to make them keep him and play him.
I always tell my players, no matter how much you put into baseball, it will always give back more to you than you put in.
We have an MLB player who comes and works out with our team when we start up in February. He has been an every day player at that level, has lately become a utility player.
Two years ago he spent the winter learning to become a good enough catcher that he could become a MLB teams emergency catcher. He already has the ability to play all 4 infield spots, and both corner outfield spots. It was all about making himself more valuable within the team structure.
I hope this works out well for your son. I would be interested in knowing what the coach had to say, and what direction your son has taken.
Yours in baseball,
Rick