My Greatest Day in Baseball
by Phil Terrana
(Virginia Beach, VA 23453)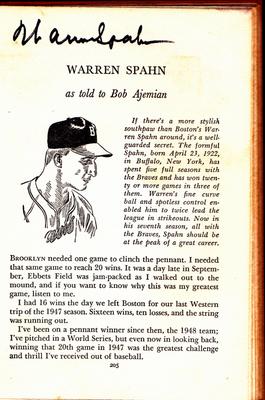 One of the best baseball books ever
One of the first books I remember reading was My Greatest Day in Baseball by John P. Carmichael and others. Published in 1951 by Grosset & Dunlap Publishers, it told, as stated on the very first page, 47 dramatic stories by 47 famous stars.


I read and re-read all the stories because in the mid-1950's, baseball was still the national pastime and baseball players were still the greatest of American sports heroes.

But the story I read the most was that told by Warren Spahn—the pitcher who would go on to win 20 or more games 13 times and more games in his career than any other left-hander in major league history.

Spahn's story in the book was about the 1947 season when he won his last four games—all shutouts—to win 20 games in a season for the first time. What I liked about him was that at the beginning of every new season, people would claim he was too old and washed up.

Every year was the same. He'd usually lose all his games in April, win a handful in May and June and go into July with a half dozen wins or not much more. My friends would suggest I find a new hero. But once the weather warmed up, Spahn got hot and come September, as usual, he'd be closing in again on 20 wins.

I came home from work one day in the early 1990's to learn that Warren Spahn would be signing autographs at the local Value City Discount Store. I didn't see this as a step down for a man with 363 career wins. No, I saw this as a chance of a lifetime for me—one I never expected.

The whole family piled into the car not knowing what we would find. After all, it had been almost 30 years since he last played and Major League Baseball now played second fiddle to football, basketball, Nascar and just about any other sporting event.

Danielle and Jessica played on the same softball team that I helped coach and I told them to bring their caps for him to sign.

Frankly I was quite surprised by the turnout—a line extended halfway around the inside of the store. But it wasn't long before my surprise turned to disappointment. The people—at least the ones around us—certainly knew who Warren Spahn was; but it became quite obvious listening to them that they didn't share the same affection for him that I did. Their goal was to garner Spahn's autograph because it would someday be a collector's item. Getting Spahn's name on the same page as another Hall of Famer only made the prize more valuable.

I understand the culture of obtaining autographs—even obtaining autographs for profit; but I have never bought into it. Prior to Spahn's, the only other autograph I ever obtained was that of Jay Silverheels, otherwise known as Tonto. When it
comes to hero-worship, I'm pretty selective.
While others in line explained to their kids that Spahn pitched for the Braves and was in the Hall of Fame, I told my kids about the time in 1963, when at the age of 42 and on the way to a 23-7 record, he faced Juan Marichal in what was probably the greatest pitching match-up ever.
Marichal at the time was 25 years old and himself in the early stages of his own Hall of Fame career.
The two men were locked in a scoreless tie after nine innings, a situation that would be unheard of in today's world. Marichal's manager wanted to take him out but Juan protested that there was no way he was going to come out until the old man came out. And that wasn't going to happen.
Spahn eventually lost the game in the bottom of the 16th inning—that's right, two innings shy of a double header—when he gave up a solo home run to Willie Mays.
If there were 500 people in that line I'd guess you could count on one hand the number who knew that story.
I told them about Spahn's first no-hitter in 1960 at the age of 39 and his second one the next year at 40. I continued to tell them stories—about Spahn and about baseball back in the days when you could watch a guy like Mazeroski win the World Series with a walk-off home run in the bottom of the ninth in the seventh game and then talk about it over dinner.
Before you could say, "Play ball" we were at the head of the line and I was face to face with the greatest left-handed pitcher of them all.
He was very friendly, signed the girl's caps and asked them about their team. And then I stepped up and put my copy of My Greatest Day in Baseball, opened up to page 205.
He looked at the book, particularly at the sketch of a very young Warren Spahn, smiled and said, "That's a pretty old book you have there."
I smiled back and said, "You're a pretty old pitcher," and we both shared a laugh.
Spahn never knew what it was like to be an old pitcher. He was always just a pitcher—well not just a pitcher—he was the greatest pitcher.
Rick commented:
Phil, thank you for sharing your baseball story with myself and our readers.
What a special moment that had to be for you. It is rare that we get that opportunity to interact with one of the baseball heroes from our youth.
MLB in the 50's was indeed wonderful. Those of us that were fortunate enough to have that experience keep the memories in a special place in our hearts, so much of it lived through the collection of baseball cards and reading books like the one you describe.
Yours in baseball,
Rick