if standing out of play, say falling over the outfield fence, and you reach over the fence to grab the ball, is that considered a homerun? ground rule double? or live ball?
by DANIEL P
(MEADVILLE, PA )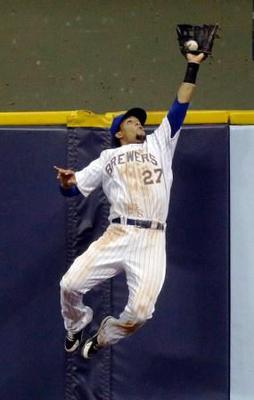 Daniel asked: OUTFIELDER RUNNING BACK ON FLY BALL, DROPS THE BALL BUT FALLS OVER CENTER FIELD FENCE.


WHILE HE IS OUT OF PLAY HE REACHES BACK OVER THE FENCE AND PICKS UP THE BALL... WHATS THE CALL?


Rick answered: Daniel, thank you for your question.


The outfielder stopped the flight of a batted live ball, which dropped in fair ground, thus remaining live, even though the player went off the field.

Outfielder is able to come back on the field and make a play on the ball. I believe he is also able to reach over the fence, pick up the ball and continue the play.

It would be an unfair advantage if, when he reached over and touched the ball, the umpire declares it a dead ball, and awards the runner two bases. That would penalize the offense, as they should be looking at an inside the park HR.

That is my thought on it. Found nothing in the rule book, only a created dead ball if the fielder catches it and falls into the stands. He can reach over, catch the ball outside the field and pull it back and get the out.

Yours in baseball,

Rick

Runner's are running. He reaches over and picks up the ball, it is still a live ball, as the batted ball did not leave the field of play.
Join in and write your own page! It's easy to do. How? Simply click here to return to Ask The Baseball Coach.