Hit or Fielder's Choice?
by Dean
(OC, CA)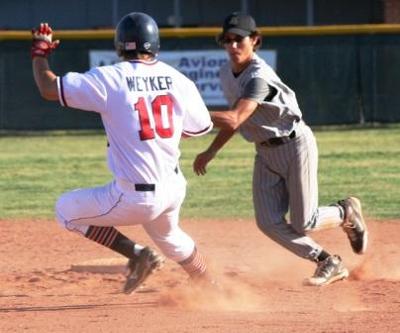 Dean asked: Two outs, man on second.


Batter hits ball sharply down third base line, 3rd baseman attempts to back hand the ball deep down the third base line and knocks the ball down.

Upon attempting to throw batter out realizes he can't make the play but noticed the runner on second going back to second, who thought the ball was past the 3rd baseman.

Runner makes it to 1st but the runner on second was tagged out during a pickle with second baseman.

Is this example a hit, since the 3rd baseman wasn't going to throw out the batter, or is it a fielder's choice. Could go either way?


Rick answered: Dean, thank you for your question.

This result of this situation would be a hit, if the batter/runner reaches first base before the runner from second base is tagged out.

Should the runner from second be tagged out before the batter/runner reaches first base, batter would get credited with a fielder's choice.

Yours in baseball,

Rick
Join in and write your own page! It's easy to do. How? Simply click here to return to Ask The Baseball Coach.