Fielder's choice or base hit?
by Steve Anderson
(New Philadelphia, Ohio, USA)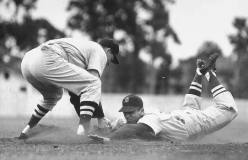 Steve asked: Runner on second with no outs. Hitter hits a ground ball into left field.


Runner at second tries to advance to third and is thrown out well after batter reached first.

Is it a single for the hitter or fielder's choice? Note, fielder never had a play on the batter who advanced to first..


Rick answered: Steve, thank you for your question.

The situation which you describe would be scored a single for the batter.

An official scorer would base their decision on the fact that the outfielder had no opportunity to get the batter-runner at first base.

Yours in baseball,

Rick
Join in and write your own page! It's easy to do. How? Simply click here to return to Ask The Baseball Coach.