does run count?
by ron
(desoto,missouri )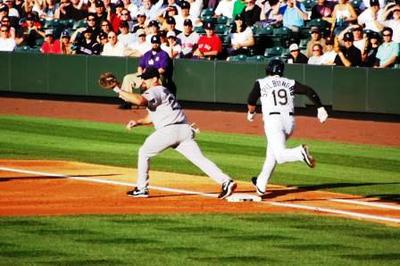 Ron asked: Scenario: 2 outs, bottom of last inning,tied game, runner on 3rd, batter hits a ground ball down 1st base line,goes between 1st baseman legs, run scores, but the batter is pretty slow, the right fielder is able to throw out batter at 1st base after run scores, so is it still tied or does the run count?



Rick answered: Ron, thank you for your question.

The key to this situation is that there are two outs when the batter hits the ground ball.

With two outs, the batter-runner must reach first base safely for the run to score. Even if the runner scores before the out is recorded, the run would not score.

The game would still be tied and you are headed for extra innings.

If you had the same two out scenario, with a runner on third base, and an additional runner on second or first.

The additional runner gets caught off base and ends up in a rundown.

If the runner from third can cross the plate, before the defense can record the out on the runner caught in the rundown, the run would score.

Your initial scenario is a continuous play, where the batter, on a ball put in play, must reach first base, for that run to score behind him.

Yours in baseball,

Rick
Join in and write your own page! It's easy to do. How? Simply click here to return to Ask The Baseball Coach.