Did TyCobb,Tris Speaker and Al Simmons ever play as the starting outfield for theA's in 1928?
by james alfano
(monroe ny )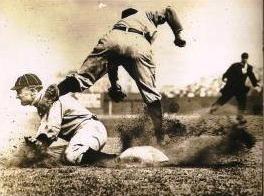 Ty Cobb safe again
James asked: I find it amazing that these three played on the same team.

Obviously Cobb and Speaker were over the hill but still, those three in the outfield is amazing.


Rick answered: James, thank you for your question.

Doubt if any team could have afforded all three of them in their prime.

Speaker had come to the A's in 1928, joining Cobb. He only played part time.

Cobb - Speaker - Simmons were supposed to be regulars. It is said by those that watched the Athletics closely in the spring of 28, that trio in the outfield would be the slowest in the League.

Simmons was injured to start the season, he returned in June taking over left field, at which time Speaker was relegated to the bench and occasional pinch hitting duties.

I found where all 3 were in the starting lineups from June 2-7; but by June 8, Speaker was no longer in the line up.

If you go to www.baseball-almanac.com and search 1928 Philadelphia Athletics, it will provide you with a Opening Day roster.

At the bottom of that page, there is a link titled 1928 Philadelphia Athletics Schedule, where you can look at all the box scores from the 28' season.

Later in the year there may have been some games where they were out there together.

I would have loved to see all those old time players play the game. What little footage there is available is certainly fun to look at.

Yours in baseball,

Rick
Join in and write your own page! It's easy to do. How? Simply click here to return to Ask The Baseball Coach.