catch or not?
by AJ
(Lincoln, NE)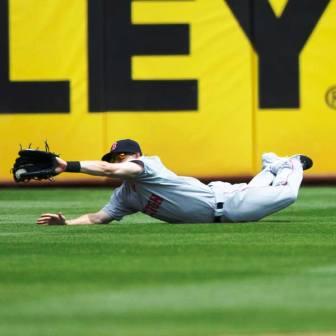 AJ asked: Defensive outfielder catches the ball but glove comes off.....ball is in the glove but the glove comes off the hand and is on the ground......catch or no catch? Out?



Rick answered: AJ, thank you for your question.

A catch is the act of a fielder in getting secure possession in his hand or glove of a ball in flight and firmly holding it; providing he does not use his cap, protector, pocket or any other part of his uniform in getting possession.

It is not a catch, however, if simultaneously or immediately following his contact with the ball, he collides with a player, or with a wall, or if he falls down, and as a result of such collision or falling, drops the ball.

In establishing the validity of the catch, the fielder shall hold the ball long enough to prove that he has complete control of the ball and that his release of the ball is voluntary and intentional.

The decision for your situation lies in how long the fielder maintained control of the ball, before the glove became detached.

That portion of the rule is determined in real time by the umpire's discretion. Even though the ball stayed in the glove, control was lost as soon as the glove left the fielder's hand, with the ball in it. It is a matter of how long a time elapsed, before the glove came off.

No exact science, umpire's discretion.


Yours in baseball,

Rick






Join in and write your own page! It's easy to do. How? Simply click here to return to Ask The Baseball Coach.