~ BASE RUNNING HOME TO FIRST. HUSTLE NEVER HAS A BAD DAY! ~
Base running, home to first. As soon as you put the ball in play, you are no longer a hitter, you become a base runner. After hitting the ball, the first step out of the box is with your back foot. Everything is a full out sprint towards first base.
Remember, HUSTLE NEVER HAS A BAD DAY. Doubles and triples are made in those initial 3-4 steps out of the batters' box.
As you get 3-4 strides towards first base, take a quick glance at the field, to see what is happening with the ball you hit. Make it a quick glance, so that you can maintain your straight, fll speed run to first base.
LEAN, LOOK, STUTTER ( L L S )
If there will be a possible play, stay full speed on that straight line through the base.
As you close in on the base, you want to hit the front part of the base, while leaning forward ( lean ) much like a track runner at the finish line
As you run THROUGH, not to, the base, look to your right ( look ) so you can see if the ball was over thrown, staying directly on the baseline.
Start taking short stutter steps ( stutter ), to slow down, coming to a full stop straddling the foul line. This is so you have the ability to go to second base, should the ball be over thrown.
~Base Running Tips ~ From the Dugout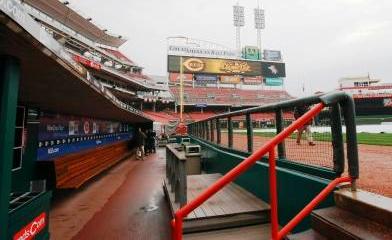 YOUNGER PLAYERS NATURALLY SEEM TO RUN OFF TO THE RIGHT AFTER PASSING FIRST BASE.
REMIND THEM IT IS CLOSER TO SECOND BASE FROM THE FOUL LINE, THAN IT IS IN FOUL TERRITORY.
Base runners have a better chance of being safe at second, if they don't have to run as far. A small thing; but something that will pay off throughout their baseball experience.
AGGRESSIVE TURN, SHUFFLE BACK
On a sure ball going through to the outfield, start your turn at approximately one half way to the base.
Move off the base line to your right, which puts you in a good position to hit the inside, front corner of the base. Sometimes this is referred to as a banana turn, or rounding the bag.
The curve created allows the runner to head for second base in a more direct line, thus getting there quicker. For younger players, hit the corner of the base with whichever foot gets you there without shuffling your feet or slowing down. As you get older, work to hit the base with your right foot, turning your head to the left. Where your head goes, your body will follow.
Our time trials indicate a consistent speed improvement of .5 to 1.2 seconds over a complete 4 base cycle, when runners hit the bases with their right foot. Again, a small point; but one which will pay dividends the longer you play.
If you always make an aggressive turn at first base, it creates pressure on the outfielder, who now has to worry that you will attempt to go to second base.
This can cause them to hurry, not staying down on the ball and letting it get through them. If they do field it cleanly, they may rush their throw, sailing it over the cutoff man's head.
While these things do not always happen, if you keep making aggressive turns, you will benefit from it eventually. You never know when one of those occurrences will be the difference in a game. What is certain, however, is that it will not be possible if you do not make that hard, aggressive turn.
Coming around first base, determine if the ball is being fielded cleanly. The outfielder, fielding the ball cleanly, is what stops you from going to second. If so, come to a stop and shuffle back to first base, keeping your eyes on the outfielders' throw.
If he over throws the cutoff, or base, you may have a opportunity to take second base. If you have your back turned, you will not see the bad throw, which may become a lost opportunity.
COACHING POINT
Players of all ages quite often overlook the last base running step. After completing their turn, they will stop, turn their back to the field and return to first base.

In the worst case scenario, they will walk back to the base. Not only will they not see an over throw; but they become an opportunity for the defense to snap a quick throw to first, picking them off.

We teach our middle infielders to turn on cutting the ball, looking for just that pickoff opportunity.

In summary, base running from home to first is a series of small parts, all being of equal importance. Attention to detail allows a player to take advantage of the opportunities that become available during the game, substantially increasing their enjoyment and chances for success.

ADDITIONAL DRILL TOPICS return from baseball skills sequence to theoleballgame.com