Bases Loaded with the winning run at 3rd with 1 out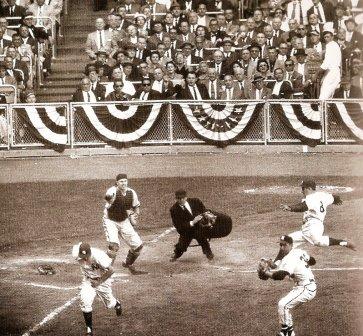 Squeeze bunt, 1957 World Series
Chris asked: I had the bases loaded with one out and a winning run at 3rd, in the last inning.


Our second best contact hitter with the highest OBP was up to bat, with a fast good base runner at 3rd.

The batter had only 2 strike outs in 33 AB and leads the team in walks.

Is there a general rule that you squeeze in this situation?

We did not and the batter struck out, then the next batter flied out. Game ends in a tie because we ran out of light.

Rick answered: What a heart breaker, and one that will keep you up nights with the "what ifs".

There is no general rule; but the situation as you described it is one which the squeeze bunt is built for. If you are successful, game over. If something goes wrong and they get the out at the plate, the bases are still loaded and you have one out left to work with.

The scariest negative for the squeeze is, if the batter pops the ball up, the inning is over immediately. That factor keeps many coaches from venturing into squeeze play territory.

An viable option could be a safety squeeze, batter is bunting strikes only, runners read the down angle of the ball off the bat and go. Stabilizes the double play situation some; but the bunt location needs to be better than the suicide, as a ball bunted back to the pitcher or directly to the corner infielders, will be a quick force at the plate. Nothing gained.

The thought process leading up to your decision was a good one. The infield would be in, adding about 150 points to his batting average. The two main characters sound like they were the right two, at the right place and time. It just didn't work out. Have to give some credit to the opposing pitcher. Sounds like he came up big.

There is always much information to analyze in a hurry when these situations come up. You
run through it all in your head, make a choice and go forward.
If it works, you are a genius. If it doesn't, everyone says they would have done it the other way. The life of a baseball coach.
I had a similar situation in a State Tournament final. We were down 1, with 2 outs, runners on second and third. Our best and fastest base runner on third, our three hitter at the plate.
The batter hit a fly ball to left, on the borderline of being deep enough for the runner to tag and go. Any other runner and I keep him there.
The left fielder had pitched a complete game for them the day before, had a decent arm; but wasn't a major velocity guy.
I took the chance to send the runner, figuring it would take an absolute strike to get him at the plate.
Catch is made, runner gets a great jump, fielder crow hops into his throw and I could see the ball out of his hand was dead on line.
One hop, a slide, cloud of dust and he was out. Game over, runner up instead of tied, and maybe State Champs.
Just like Vegas, you pay your money and you take your chances. This play was 35 years ago and I still think about it. What if .....
We didn't have the option to squeeze with 2 outs; but I did have the option to keep him at third and take our chances on our number 4 hitter.
After he was thrown out at the plate, most everyone said they would have held him.
It all makes baseball the great game it is. There is always another game, another situation, another pitch, ground ball, fly ball, stolen base, at bat ...
Good luck as you go forward. As long as you are thinking through the situations and making decisions based on the information you have, I believe, over time, you will come out ahead more times than not.
Yours in baseball,
Rick