baseball
by mivhael
(windsor,co)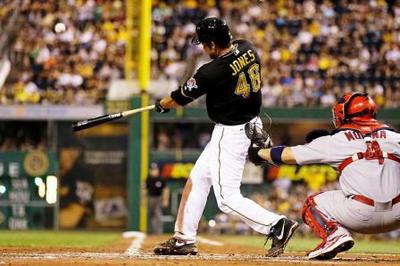 Who Will Win The NL Central?
Michael asked:In the central division the cards are in first place and the pirates are in second place...if the pirates beat the cards do they win 1 game or a half game?


Rick answered:Michael, thank you for your question.

As of today, the Cardinals are up by 4 games up on the Pirates.

If the Cardinals win todays game, they will be 5 games up, thus gaining one full game.

With a Cardinal win, Pirate's loss, the Pirates drop a game, and will be 5 games behind.

Both teams have 5 games left to play in the regular season. A Cardinal win today would clinch the Central, as there will only be 4 games left in the regular season.

Pirates have to win out to win it.

The formula for figuring games ahead, or behind is:

Games Behind= (Team A's wins - Team B's wins) + (Team B's losses - Team A's losses) divided by 2

Yours in baseball,

Rick
Join in and write your own page! It's easy to do. How? Simply click here to return to Ask The Baseball Coach.