Baseball Hitting Drill, Itchy Jones Has Developed A Workout You Can Do At Night, At Home!
With this baseball hitting drill, Itchey Jones, legendary coach at Southern Illinois and The University of Illinois, has created a drill that works indoors or out, summer or winter.
This is an easy to use drill that can be incorporated into a hitting station rotation, or one that players can modify equipment for and do at home. It works on their swing for pull, middle and away, as well as load/stride.
EQUIPMENT NEEDED
One baseball.



1-4 players.



Backstop or fence, if player is alone.



Three signs, numbered 1, 2, and 3 to hang on the fence or backstop.
The Sequence


If working one player alone, hang three signs across the fence or backstop, if 4 players in a group, each player becomes a target. The middle player directly in front of the hitter, the other two 10 feet to his left and right. All three are 10 feet away from hitter.



Hitter interlocks little finger of top hand, with the index finger of the bottom hand, while holding a baseball in top hand.



Hitter load/strides and throws ball out of his top hand, to the number called out, either by a coach at that station or one of the three players.



Hitting Tips ~ From the Dugout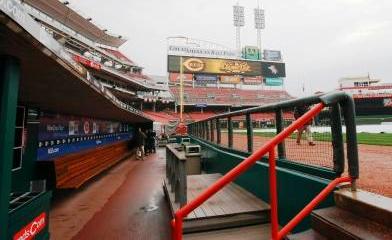 Variation: Use A Rolled Up Sock Instead Of A Ball And Throw At Tape On The Walls Of A Room. You Can Do This At Night And All Winter Long In Cold Climates To Get A Lot OF Repetitions.
---
return from baseball hitting drill itchy jones to the ole ballgame.com