Are the lineup cards signed by the Managers?
by Karen
(Largo FL USA)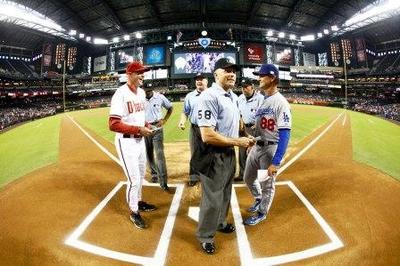 Karen asked: My team actually markets game day line up cards. Card shows both teams listed.


Do the Managers have to sign them? You know, like in golf when the player HAS to sign his score card?


Rick answered: Karen, thank you for your question.

From the MLB Rule Book, Rule 4.00 Starting and Ending a Game - 4.01...Unless the home club shall have given previous notice or will be delayed in starting, the umpire or umpires shall enter the playing field 5 minutes before the hour set for the game and proceed directly to home base where they shall be met by managers of the opposing teams. In sequence ...

a) First, the home manager, or his designee, shall give his batting order to the umpire in chief, in duplicate.

b) Next, the visiting manager, or his designee, shall give his batting order to the umpire in chief, in duplicate.

c) As a courtesy, each lineup card presented to the umpire in chief should list the fielding positions to be played by each player in the batting order. If a designated hitter is used, the lineup card shall designate which hitter is to be the designated hitter. See Rule 6.01 (b). As a courtesy, potential substitute players should also be listed, but the failure to list a potential substitute player shall not make such a potential substitute player ineligible to enter the game.

(d) The umpire in chief shall make certain that the original and copies of the respective batting orders are identical, and then tender a copy of each batting order to the opposing manager. The copy retained by the umpire shall be the official batting order. The tender of the batting order by the umpire shall establish the batting order. Therefore, no substitutions shall be made by either manager, except as provided in the rules.

Managers may actually sign their cards, but based on the rule book, nothing is mentioned that makes it mandatory. With all that they cover in the rules, if it was mandatory it surely would be written with the other must do's.

At the High School level, there is a line on the card to indicate the head coaches' name; but there is no mandatory signature.

Yours in baseball,

Rick
Join in and write your own page! It's easy to do. How? Simply click here to return to Ask The Baseball Coach.