Anyone know about these giant cards?
by William
(Goshen, In)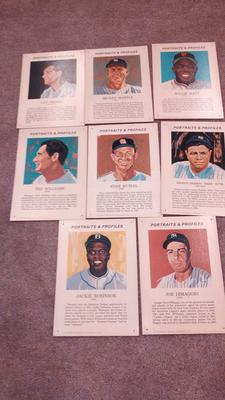 William asked: I have a question about some giant cards that was given to me along time ago.


Has anyone seen anything like this?

Do you think they are worth anything?

They are L:19 1/2in x W:13 1/2in and on the bottom of the cards it says: 1970 "Portraits and Profiles" Barnell Loft, Ltd, Rockville Center, N.Y.


Rick answered: William, thank you for your question.


I did a Google search for the publisher, Barnell Loft LTD. there is quite a bit of information on the company and products.

I am not a card collector and don't keep up on the market.

I believe they are certainly worth something, quite possibly more than one might think.

There is a Ted Williams I believe, and a Babe Ruth.

I was unable to get the image clear enough to see the others.

If you research it in a Google search, I am sure you will gain additional information.

I will post this on my site, possibly one of our readers may be knowledgeable.

Sorry I can't be of more help.


Yours in baseball,

Rick


Join in and write your own page! It's easy to do. How? Simply click here to return to Ask The Baseball Coach.