Anxiety
by Lou
(Bronx, New York)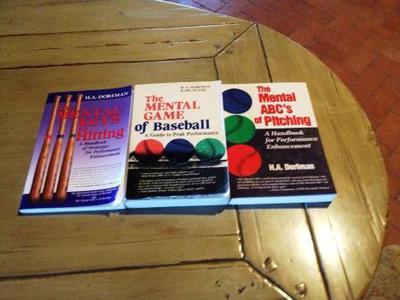 Books By Harvey Dorfman
Lou asked: I played this great game into my 30's, not professionally.


I have coached my boys for the last 10 years. For the life of me, I have always become very nervous before games as a player, and now as a parent/coach.

At the field it wares off, but I still stress too much, especially the night before and day of the game.

I appreciate this game and love it dearly. I go to Cooperstown every year with my boys and so love the history of this great game.

Any advice about getting over anxiety?


Rick answered: Lou, thank you for your question.

Controlling anxiety for your players, or yourself, is all about coming to terms with what you can and cannot control.

Concentrate on the things that you can control and set your goals inside controllable things.

Quite often we find ourselves worrying about things which are outside our ability to do anything about.

Examples include such things as field conditions, weather, opposing teams, umpires, crowd, teammates, coaches (yours and the oppositions), playing time, the position you play, family, schedule, the past, the future, rules, expectations of others, traveling.

When we allow our minds to stress over items such as those listed above, we have little time to concentrate on those things over which we do have control, thus putting ourselves at a decided disadvantage.

So, what can we control?

Our concentration in the moment, confidence, attitude, effort, coachability, reaction to events, staying eligible, not being suspended, being at every practice, being at every game, team orientation(work for the benefit of the group), preparation, enthusiasm, discipline, determination, staying in the present, work ethic and rest and diet.

There is plenty on this second list to keep us busy 24-7. The better we are able to confine our concerns to these areas, the more successful we will be.

Realizing the items on the not controllable list are out there; but are not within your control, frees you up to
work within the controllable items framework, a much more manageable list.
The books pictured above were written by Sports Psychologist, Harvey Dorfman. I had the good fortune to attend a Sports Psychology seminar in 1992, put on by Jeff Jannsen, who was at that time the Sports Psychologist for the University of Arizona. These books are available from the bookstore on my site, or Amazon books, which is where my book sales go through, at the same price.
In that session, Mr. Jannsen suggested we purchase one of Mr. Dorfman's books, The Mental Game Of Baseball, A Guide to Peak Performance.
I did, and that book and two additional books shown above, forever changed the way I approached coaching baseball.
If you go to
baseballs mental game
, you can access the 11 pages on my site which are relevant to the mental game in baseball.
It all comes down to having a plan, created within the framework of the things you have control of in baseball, so that you as a coach and your players, develop a confidence that you are all able to overcome anything that may arise during the course of a game.
The game becomes an opportunity to showcase what has been learned, rather than a source of worry over what might take place.
I had an opportunity to go to Cooperstown when I was 7. I grew up in Elmira Heights, New York. We moved to Tucson, Az when I was 9. Remember quite a bit of it; but would like to go again, at this point in my life.
Baseball history and all the game has to offer is tremendous.
One of the great things about baseball is, nothing is ever terminal. There is always another game, another at bat, pitch, base to steal, etc. The ability to put behind us what didn't go well and focus on the next opportunity, is worth it's weight in gold.
Concentrate in the moment, simplify!
Yours in baseball,
Rick