a runner coming home stops then circles around the catcher to avoid the tag . is he safe or out?
by Victor Rodriguez
(Eagle Pass,Tx.)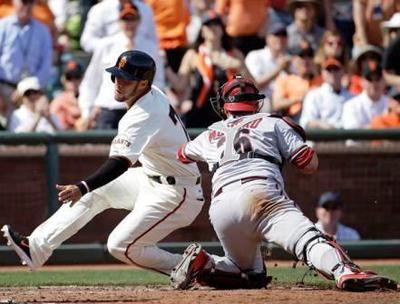 Victor asked: A runner was headed home from third base on a grounder to first.

The first baseman made the play at first, then thru home.

The runner from third stopped then circled around and avoided the catchers tag.

Is he still safe even though he went out of the base path?


Rick answered: Victor, thank you for your question.


(b) 7.08 Retiring A Runner

Any Runner Is Out When:

(1) He runs more than 3 feet away from his base path to avoid being tagged, unless his action is to avoid interference with a fielder fielding a batted ball.

A runner's base path is established when the tag attempt occurs and is a straight line from the runner to the base he is attempting to reach safely.

The runner can stop; but he essentially only has a foot and a half margin on either side of his position on the baseline.

He goes outside that restriction, the umpire should ring him up.


Yours in baseball,

Rick


Join in and write your own page! It's easy to do. How? Simply click here to return to Ask The Baseball Coach.