Switching batting and running gloves.
by Robert Lakeman
(Florida)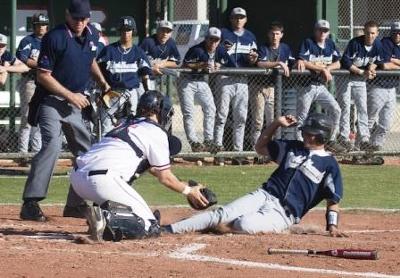 Dragging hand on ground
Robert asked:

Why do runners change from a batting glove to a running glove when reaching first base?

Robert from Florida submitted this question on my Contact Rick page. In answering, I found the return email address would not work.

I am submitting the question myself in the hope that he will locate it.

It was a good question that many others may have wondered about.



Rick answered: Good question Robert!

In the process of sliding, more often than not players will drag one hand on the dirt, the one on the side they are sliding on.

Sliding on their right side, a player would drag their right hand.

This process tends to tear up a batting glove in a hurry. Players get a good feel for a batting glove, plus often some degree of pine tar and they don't want to mess them up while sliding.

Changing gloves helps them maintain the good feel of their batting gloves, eliminating one thing to think about in the batter's box.

Ideally, players are taught to throw their both hands in the air when sliding because it creates less drag and it helps prevent injuries like jammed and broken wrists.

I broke my right wrist in high school, sliding into a base. Thus, I have always spent time working with players to not drag that hand. The incident cost me the last three games of my high school career. So far, in 36 years of coaching, haven't had a player break a wrist or hand.

It's not that it is foolproof, there is a lot of good fortune that has come into play also.

Some players will also trade out gloves and just hold the running glove in their hand. The theory at work here is with something in your hand, you won't put your hand down on the ground. It does work!

Prior to the invention of batting gloves, base runners were taught to grab a handfull of dirt and keep it in their hands, so they would keep their hands up. That works as well!

One of those little things in baseball which, when used, can provide a player with a little edge to keep themselves healthy and be quicker sliding into a base.

Yours in baseball,

Rick
Join in and write your own page! It's easy to do. How? Simply click here to return to Ask The Baseball Coach.