Is it an error or fielder's choice---or both?
by Greg
(Santa Maria, CA)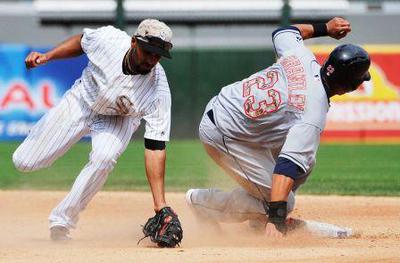 Greg asked: Runner at first.


Batter hits ball to shortstop who fields the ball cleanly but overthrows 2nd Baseman.

I scored the play as a fielders choice for the batter and an error on the shortstop for the overthrow, that allowed the runner from first to reach second base safely.

Is that the proper scoring for this play?


Rick answered: Greg, thank you for your question.

A Fielder's Choice is the act of a fielder who handles a fair grounder and, instead of throwing to first base to put out the batter-runner, throws to another base in an attempt to put out a preceding runner.

You are correct in recording a fielder's choice as the reason the batter-runner reached first base safely.

An error is a misplay by a fielder or a team which is recorded in the error column of the players or teams record.


The scorebook has to record how the runner from first reached second safely, which was the error you recorded.

The scorebook has to be the record of how all things developed. Sometimes it can be a nightmare to sort out just what took place and how it should be recorded.

All correct!

Yours in baseball,

Rick

Join in and write your own page! It's easy to do. How? Simply click here to return to Ask The Baseball Coach.