Recording a Fielders Choice in the score book?
by Steve C
(Modesto,ca)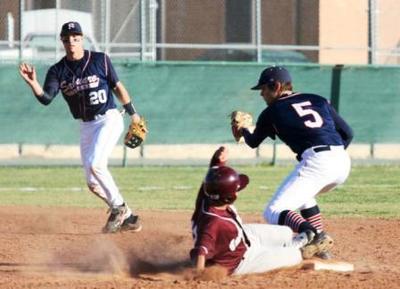 Steve asked: I have a debate going on with a scorekeeper.


On a fielder's choice, let's say runner on first no outs. Batter hits a ball to the shortstop.

He fields it then throws on to second forcing the runner coming from first out at second. No throw to first by the second baseman.

The batter gets a FC in his scoring box for a fielder's choice on the score card. Where should the 6-4 go?

I say in the runner's box. Because that is the action that made him out. Our Scorekeeper says it should go in the batter's who hit the ball score box.

Who is correct?


Rick answered: Steve, thank you for your question.

You are correct. The force at second is recorded in the runner's box as a 6-4, with a 1 circled for the first out of the inning.

The batter gets an FC written in for his at bat. That way, when you go back through the book to total everything, you can readily see what took place and who should be credited with what.

Yours in baseball,

Rick
Join in and write your own page! It's easy to do. How? Simply click here to return to Ask The Baseball Coach.